Taskbar Color Not Changing for Themes on a Windows 7 System
My wife reported that the taskbar color on her Windows 7 desktop system was not changing when she changed the theme as it did on her laptop. The background color would change for a theme, but the taskbar color remained the same gray color.
I right-clicked on the desktop and chose Personalize. At the bottom of the window where one could select a theme, there was an option to Troubleshooot problems with transparency and other Aero effects . I clicked on that option. A window then appeared where I could click on Next to troubleshoot Aero problems.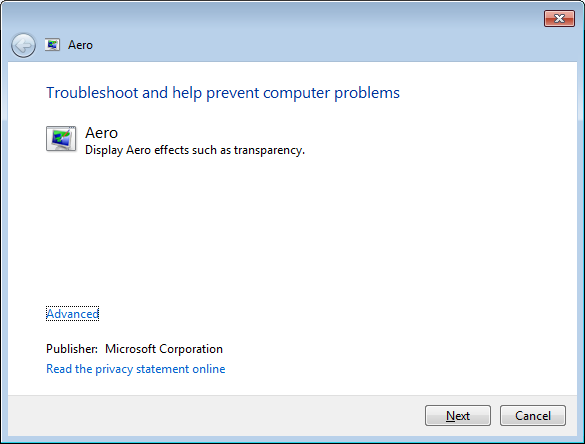 When I clicked on Next, I saw a window with "Update the driver for your video card" and the message that "The current video card may support Aero with a driver that is compliant with the Windows Display Driver Model (WDDM). Contact the manufacturer of your computer or video card for a WDDM-compatible driver."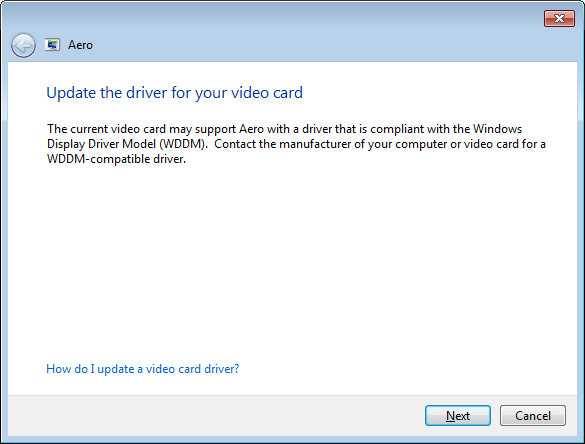 I clicked on Next and saw a "Troubleshooting has completed" window stating the following:
Problems found
Video card driver doesn't support Aero effects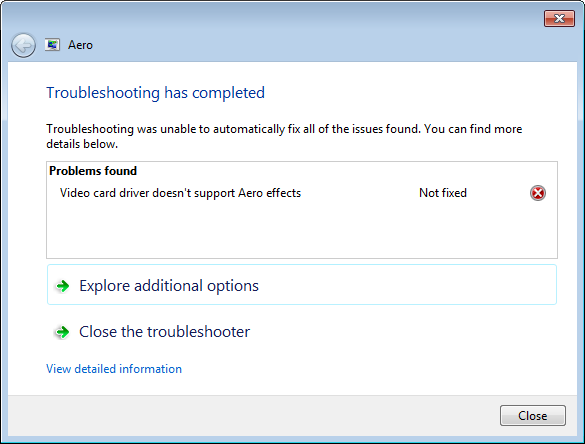 I decided to check the Windows Experience Index (WEI) score for the system. I clicked on the Start button

and selected Control Panel. The View by settng was Category. I changed it to Large icons and then selected Performance Information and Tools, which showed me the WEI score was 1.0.
The WEI assesses key system components on a scale of 1.0 to 7.9. A system is rated with an overall score, called the base score, and with subscores for each of five individual hardware components: processor, memory, graphics, gaming graphics, and primary hard disk. The base score is determined from the lowest of the five subscores, because a system's performance is limited by its slowest or least-powerful hardware component.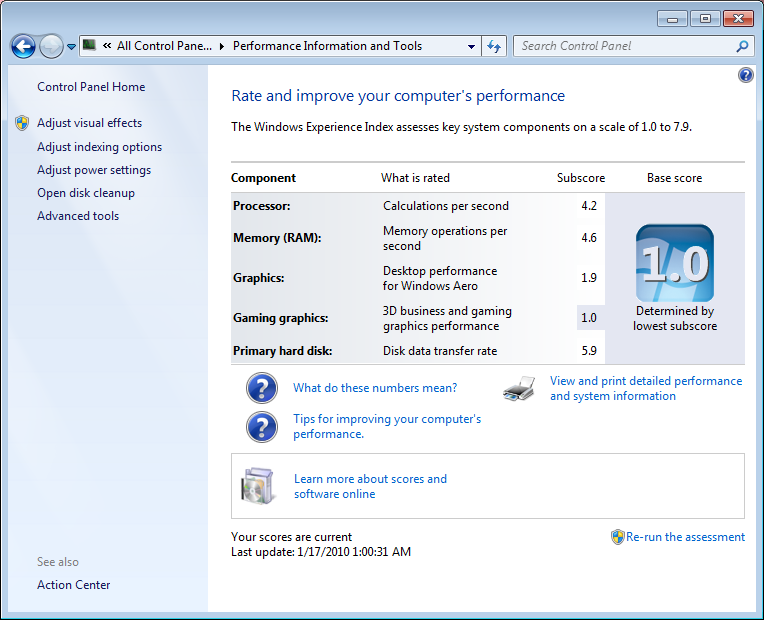 In this case the values were as follows:
| Component | What is rated | Subscore |
| --- | --- | --- |
| Processor: | Calculations per second | 4.2 |
| Memory (RAM): | Memory operations per second | 4.6 |
| Graphics: | Desktop performance for Windows Aero | 1.9 |
| Gaming graphics: | 3D business and gaming graphics performance | 1.0 |
| Primary hard disk: | Disk data transfer rate | 5.9 |
In this case the overall score was 1.0, because of the gaming graphics score. I clicked on Re-run the assessment. The only score that changed was the one for memory, which changed from 4.6 to 4.9. I had replaced the memory modules in the system.
According to the table provided at Winows Experience Index, a value of 3.0 is typically needed to have Windows Aero automatically enabled.