Repairing a corrupted Microsoft Excel .xlsx file using Calc
After Microsoft Excel for Mac 2011, which is part of the
Microsoft Office for Mac 2011
office suite, crashed on my MacBook Pro laptop running
OS X Yosemite
(10.10.5), whenever I tried to reopen one of the workbooks I had open at the time of the crash, I would see the message "Microsoft Excel quit unexpectedly."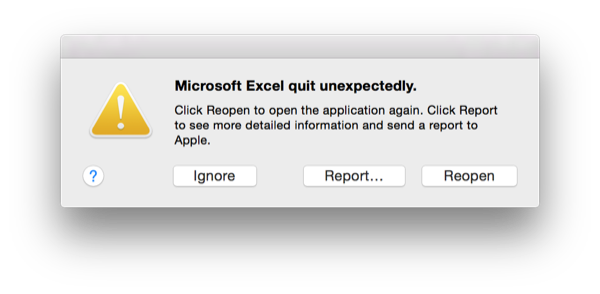 The crash report showed an exception type of "EXC_CRASH (SIGABRT)" and "Application Specific Information" was "[50842] stack overflow".
If I tried opening the workbook with the Apache OpenOffice 4.1.2 on the same system, it displayed "Loading..." and then seemed to get stuck there. However, when I returned to the system about 15 minutes later, the spreadsheet I needed to access was open within the OpenOffice Calc application. All of the sheets within the workbook were accessible and I clicked on File, then chose Save and then saved the file with the default file type of "ODF Spreadsheet (.ods)", so that I would have a readable copy of my data that I could at least open with OpenOffice. I then clicked on File again and this time chose Save As and used a file type of "Microsoft Excel 2003 XML (.xml)". I received a warning that "This document may contain formatting or content that cannot be saved in the Microsoft Excel 2003 XML file format. Do you want to save the document in this format anyway?" I chose "Keep Current Format" to save the spreadsheet in the .xml format.
[ More Info ]