How to fix a problem with Entourage 2008 not indexing all email
After an issue with my MacBook Pro a few weeks ago that resulted in Microsoft Entourage 2008 for Mac crashing, I found that searches for email would not return all pertinent messages. I could search on subject, "from" addresses, etc. and see results, but not all messages I knew were in the inbox or other folders. E.g., if I searched by subject for daily logs I receive, the search would not return any messages between December 31, 2014 and March 31, 2015, though I could see they were in the inbox if I ordered it by subject.
To correct the problem, I clicked on the Apple icon in the upper, left-hand corner of the screen, chose System Preferences and then Spotlight from the Personal group. I confirmed that Messages & Chats was checked (all entries were checked by default).
I then clicked on the Privacy button.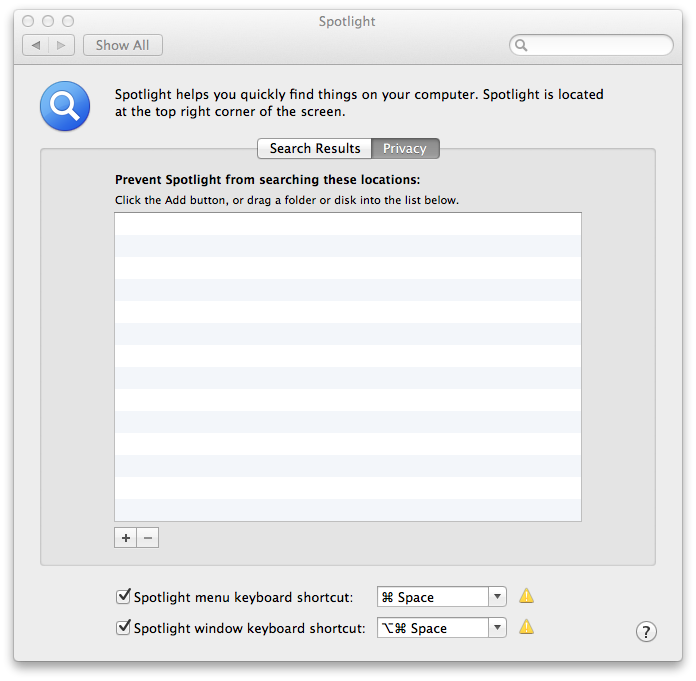 Within the Privacy window, I clicked on the plus sign, "+", and addeded my home directory, e.g., jdoe, to the list of directories that should not be searched. When you do so, a warning window will open with a message similar to the one below:
Are you sure you want to prevent Spotlight from searching in "jdoe"?

If you exclude this location from Spotlight searches, the search feature won't work in some applications.
Clicking on OK will add the directory and its subdirectories to the exclusion list. After adding the home directory, I clicked on it to highlight and select it, then clicked on the minus sign, "-" to remove the directory from the exclusion list and cause a reindexing of that directory. I then closed the Spotlight window.
I don't know how long the reindexing process took to complete. I didn't peform any further searches in Entourage until the following day; at that time searches did return all messages.