GreenThumb Healthy Habitat 50ft Garden Hose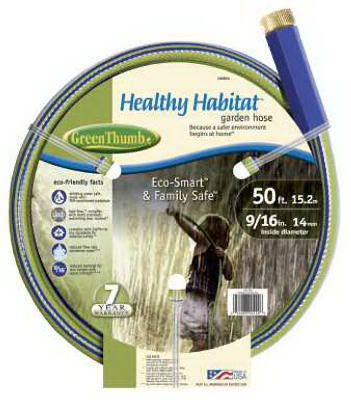 GreenThumb Healthy Habitat™ garden hose
Because a safer environment begins at home™

Eco-Smart™ & Family Safe™
P/N: 106834
Stock # 6335-50
50ft. (15.2m)
9/16in. (14mm) inside diameter
7 year warranty
eco-friencly facts
Drinking water safe. Made with FDA-sanctioned materials
Lead-free. Complies with RoHS standards restricting lead content*
Complies with California toy standards for material safety**
Reduced flow rate conserves water***
9/16". Reduced material for less weitht with equal strength****
ECO FACTS

| | |
| --- | --- |
| * | RoHS Compliant: contains less than one-tenth of 1% lead by weight in homogeneous material |
| ** | Complies with California Health and Safety Code, Section 108935-108939 |
| *** | Flow rate at 8 gallons per minute with restrictor and 9/16" diameter yields up to 20% decrease in water compared to a 5/8" diameter hose without a restrictor |
| **** | Up to 8% lighter weight than 5/8" diameter |
UPC: 052088004296

106834
0058021/6335-50


Made in USA
Satisfaction Guaranteed
If for any reason you aren't completely satisfied with the performance or results of this GreenThumb® product, it will be replaced free of charge. Simply provide proof of purchase and return the product to the place of purchase.
For easy use, follow the break-in procedures below:
Uncoil and straighten hose to full length
Attach hose to faucet, then attach nozzle
Turn water on full and let trapped air out with nozzle
Pull hose straight to remove any twists caused by packaging
Turn off water, release pressure at nozzle and coil as usual
Before using your hose, be sure the restrictor washer is firmly placed inside the coupling. This will prevent leaking.
Note: For unrestricted flow, remove supplied restrictor washer and insert a standard washer which can be purchased at most local hardware/home improvement stores.
WARNING: THIS HOSE IS INTENDED FOR ROUTINE OUTDOOR WATERING APPLICATIONS.
WARNING: NOT FOR HOT WATER USE.
WARNING: DO NO LEAVE HOSE UNDER PRESSURE WHILE UNATTENDED.
DRINING WATER APPROVED: WATER CONTACT SURFACES ARE MANUFACTURED WITH F.D.A. SANCTIONED MATERIALS.
FOR PROPER USE, ALLOW WATER TO FLUSH THROUGH HOSE SEVERAL MINUTES BEFORE USING
For more information contact Customer Service at 1-800-289-6786
ONLY USE A DRINKING WATER SAFE HOSE FOR DRINKING WATER PURPOSES
This hose is manufactured with F.D.A. sanctioned materials for drinking water safety. Do no drink from this hose if there is a possibility of its exposure to any conditions which can be harmful to humans such as:
Mold & bacteria
Lawan & garden chemicals
Animal waste
Insects
Stagnant water
Other harmful substances
Manufactured for
True Value® Company
Chicago, IL 60631-3505
©2008 Made in USA
For other lengths, see Healthy Habitat Garden Hose

Created: Tuesday June 23, 2009