Lynx Battery Terminal Wrench
Lynx by East Penn O.E. top/side combo battery terminal wrench
Part number: 08860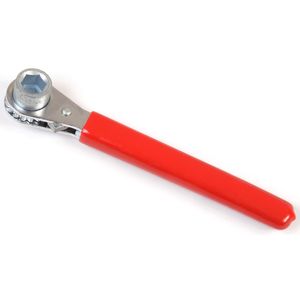 5/16" and 10mm reversible ratcheting box wrench with safety-coated handle
Fits O.E. side and top terminals
BCI torque value for side terminals: 70-90 inch-pounds
For top terminals: 50-70 inch-pounds
Vinyl coated safety handle grip
Strong metal construction
Product Details
| | |
| --- | --- |
| Brand: | Lynx |
| Part Number: | 08860 |
| Weight: | 0.28 pounds |
| Handle Material: | PVC |
| Length: | 5 1/2 inches |
| Width: | 7/8 inches |
| Ratcheting: | Yes |
Directions
For tightest grip, clean terminal bolts.
Make sure there is enough space between battery bolts and metal frame of vechicle to work safely. Inadequate clearance could cause electrical system grounding.
BE CAREFUL NOT TO OVER-TIGHTEN BOLTS.
BCI TORQUE VALUE FOR SIDE TERMINALS: 70-90 INCH-POUNDS
FOR TOP TERMINALS: 50-70 INCH-POUNDS.
California Proposition 65 warning: This product and packaging contains chemicals, includind lead, known to the state of California to cuase [cancer, and] birth defects or other reproductive harm. Wash hands after handling.
Always wear safety glasses when working around batteries.
Warning: Batteries produce explosive gaes. Keep away from children.
Always disconnect grounded cable first, reconnect last. Keep sparks, flames and lighted cigrarettes away from batteries.
Follow all safety instructions.
Manufacturer
EAST PENN manufacturing Co. Inc.
Lyon Station, PA 19536
Made in China
UPC

083996088603

Created: Saturday June 6, 2015