Abacast - Wrong Radio Station Playing
If you like to listen to radio stations that rely on the Abacast streaming audio client, abaclient.exe, you may experience a problem when switching from one radio station to another, if both rely on the Abacast streaming software. When you switch to another radio station, you may see a window open for the second station and hear an advertisement associated with the second station, but then music from the previous station may play instead of music from the station to which you've switched.

For instance, while using Internet Explorer 6.0 on a system where the Abacast Streaming Media Client v1.61 9/28/05 was installed, when I went to CatCountryRadio.com and clicked on the "Listen Now" link. I would see a small window open for that station which would allow me to adjust the volume.
When I switched to another radio station, 103.7 WXCY, I would see its window open.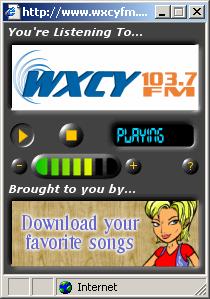 I would hear an advertisement associated with it, but music for the previous station would still play.
To resolve such a problem you can use one of two methods. You can right-click on the Abacast Client icon in the system tray at the lower-right hand corner of your screen - it is a white icon with a red inverted "V" with a blue swirl coming out of its top - and then select "Exit".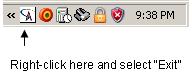 Or you can hit the Ctrl-Alt-Del keys simultaneously and select the Task Manager. Then click on the "Processes" tab. Click on "Image Name" at the top of the "Image Name" column to put the entries in alphabetical order. Then click on "Abaclient.exe" to select it. Then click on the "End Process" button. When you see the warning "Terminating a process can cause undesired results including loss of data and system instability", click on "Yes" - ending this particular task won't create problems. Within a few seconds the music should stop. And a few seconds later the Abacast Client icon should disappear from the system tray.
After you have stopped the Abacast Client program by one of the above two methods, close the small window associated with the radio station that allows you to adjust the volume of the music. Then you can go to another radio station and hear its music rather than continuing to get the music from the previous station.