SUPERAntiSpyware scan of system on April 23, 2017
I ran a SuperAntiSpyware Free Edition scan of a Microsft Windows 10 system on April 23, 2017. It reported that it found Search Protection noting "Search Protection is a program that may display advertisements and is bundled with other potentially unwanted programs." It reported that it found a registry key associated with Search Protection, HKLM\SYSTEM\CurrentControlSet\services\SearchProtectionService.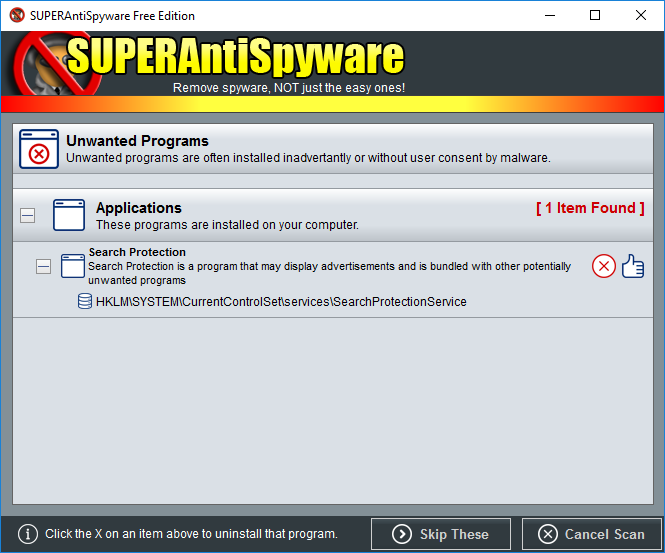 I ran regedit and checked that registry key.

When I checked the value of the ImagePath key, I found its value was "C:\Program Files (x86)\Lavasoft\Web Companion\Application\Lavasoft.SearchProtect.WinService.exe". Since the key was associated with another antivirus program from Lavasoft, that I had installed on the system some time ago, I chose Skip These to proceed with the SUPERAntiSpyware scan. I had seen SUPERAntispyware flag the SearchProtectionService registry key previously.
When SUPERAntiSpyware completed its scan, it reported it found 1,161 items.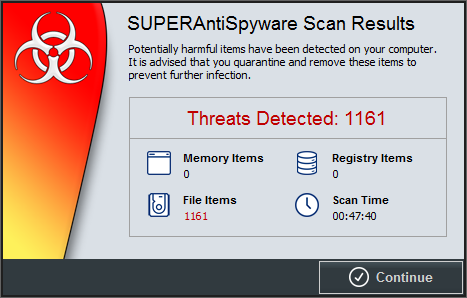 Of the 1,161 items it found, though, 1,158 were Adware.Tracking cookies, which are relatively innocuous.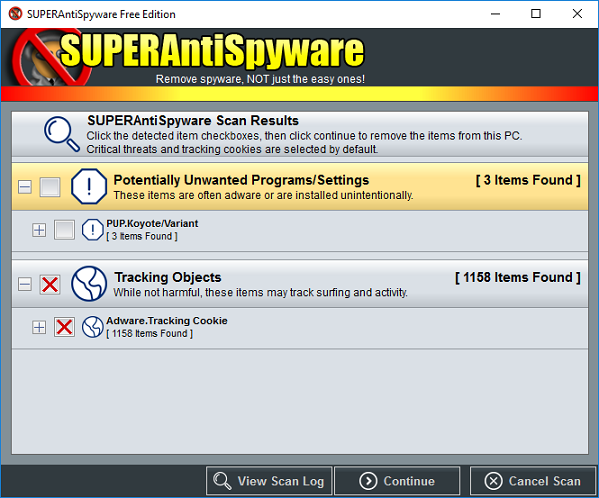 The PUP.Koyote/Variant items it found were related to a zip file I had created from files associated with prior malware detected on the system.
When I had it remove the cookies it found, I noticed it was referencing COOKIES.SQLITE; Firefox stores information about HTTP cookies in an SQLite database, so I presume it was removing the references from that database.
Related articles:
SUPERAntiSpyware detected Search Protection
Date: December 17, 2016
Viewing Firefox cookie information with sqlite3 on Mac OS X
Date: February 28, 2017