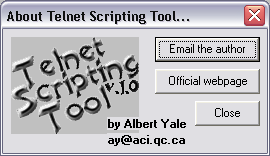 Name: tst10.zip
Description: Telnet Scripting Tool
Version: 1.0
Size: 190.4 KB (194928 bytes)
MD5 Sum: e477d108cf5fdf199c86a062b6c7fad9
Developer: Albert Yale
Developer Website: Albert Yale
Obtained On: 2008-12-29
Obtained From:
Download URL:
Requirements: Windows® 95/98/Me/NT 4.0/2000/XP/2003/Vista
Purchase Information: Freeware
License:
Redistributable: Yes
Comments: This free telnet scripting tool provides a mechanism to automate telnet sessions. If you execute the program with no arguments, you will see a help window that explains how to use it.

There are two files within the zip file: TST10.exe and TST10.txt. The MD5 checksum for TST10 is 4aee641e6ddb9a5fa95f590273729708. A VirusTotal analysis of TST10.exe can be found at MD5: 4aee641e6ddb9a5fa95f590273729708. The VirusTotal analysis of the zip file can be found at MD5: e477d108cf5fdf199c86a062b6c7fad9.

[ More Info ]


Name brand products, up to 97% off MSRP! See today's deals at 1Sale.com!

Created: Monday December 29, 2008