16 in. Oscillating Pedestal Fan - Model: PFA16LG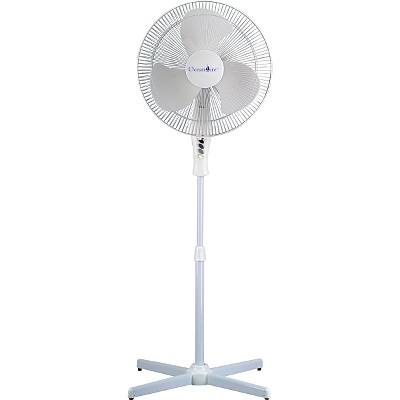 OceanAire 16-inch, oscillating pedestal fan

Model: PFA16LG
Item number: 340815992110

Color: White

Features:
3-speed push button control.
80-degree oscillation
30-degree tilting adjustment
Whisper-quiet operation
Adjustment Instructions

Tilt Adjustment - Follow these instructions to tilt the fan head for upward angle air movement.

To change the tilting angle of the fan head, simply move the fan head to desired angle.

Height Adjustment - Follow these instructions to adjust the height of the fan.

Turn the Height Adjustment Ring counter-clockwise to loosen the Extension Pole.
Adjust the Extension Pole to the desired height, and firmly tighten the Height Adjustment Ring in a clockwise direction.
Cleaning

Plastic parts shall be cleaned with mild soap and a soft, moist cloth or sponge. Thoroughly remove soap film with clean water.
User Maintenance

This fan is permanently lubricated and will not require additional lubrication (oil) for the life fo the fan. This fan requires little maintenance and contains no user serviceable parts. Do not attempt to repair or adjust any electrical or mechanical functions on this unit.
Made in China

Kmart Corporation, Try, MI 48084
Shop: www.kmart.com

UPC: 877697001074


Created: Sunday June 29, 2008