Backing Up Exchange Information Store
Microsoft Exchange stores users' email in a database called an "Information Store1". You can use the Backup Utility that comes with Windows to backup the data in the Information Store by taking the following steps:
Click on Start.
Select Run.
Type ntbackup and hit enter.
When the backup utility starts, if it starts in the default "wizard" mode, you can click on Next.

When asked "What do you want to do?", accept the default value of "Back up files and settings" by clicking on Next.
When asked "What do you want to back up?", select "Let me choose what to back up" and click on Next.
When the Items to Backup window appears, click on the "+" to the left of Microsoft Exchange Server in the left pane of the window to expand it.

Underneath Microsoft Exhchange Server, when you have expanded it, you will see the name of the Exchange Server, in the example shown it is named "S". Click on the "+" sign to the left of the server name to expand it.

Click on Microsoft Information Store, which appears under the server name, to select it.

You can expand the Microsoft Information Store to see the First Storage Group below it. Double-clicking on First Storage Group will show Mailbox Store and Public Folder Store in the right-hand pane of the window. Both will be backed up.

Click on Next to continue.
Select the backup type, place to save the backup, and give the backup a name. If you are backing up the data to another drive, you would use "File" as the backup type.

Click Next to continue.
Click on Finish to start the backup.
You will then see a Backup Progress window tracking the progress of the backup.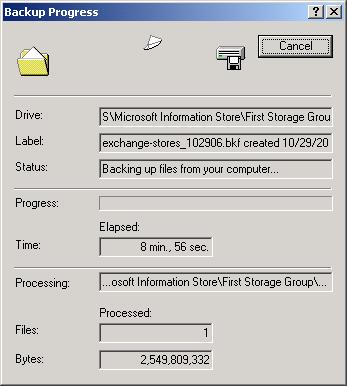 When the backup process completes, click on the Report button to see whether there were any errors.
If the backup process completes very quickly, e.g. in less than a minute, then something likely went wrong. If you see "Error: The database S\Microsoft Information Store\First Storage Group\Mailbox Store (S) must be mounted in order to be backed up" when you click on the Report button, then you will need to open the Microsoft Exchange System Manager, drill down to the Mailbox Store by expanding Servers, then the server itself, then First Storage Group, then Mailbox Store, then right-click on Mailbox Store and select Mount Store.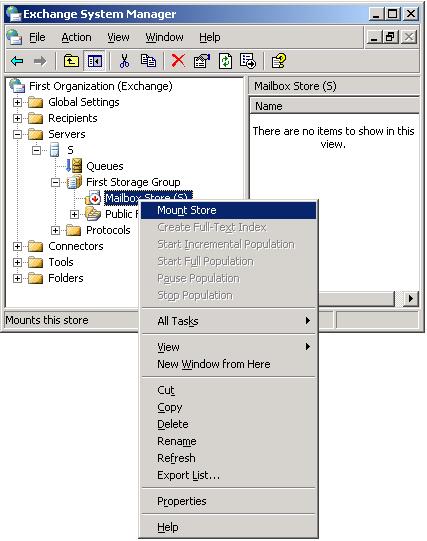 You will then need to rerun the backup program.
When the backup completes successfuly, you should see the status change to "completed' in the backup progress window and you should not see any errors when you click on Report to view the log.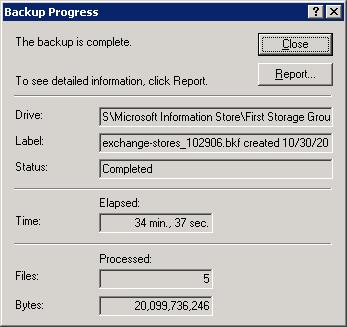 References:
Understanding the Exchange Information Store
MSExchange.org
By Rodney Buike December 9, 2005



Exchange 2003 Backup and Restore with NTBACKUP
MSExchange.org
By Marc Grote May 17, 2005