SUPERAntiSpyware Installation Blocked by Windows Defender
I downloaded SUPERAntiSpyware Free Edition version version 8.0.1048, an antivirus program, from the developers website on January 27, 2020. When I attempted to install it by right-clicking on the file and choosing "Run as administrator, a Windows Defender window popped up with the message below:
Windows protected your PC
Windows Defender SmartScreen prevented an unrecognized app from
starting. Running this app might put your PC at risk.
More info
When I clicked on the "X" at the top-right, hand corner of the window, the message went away, but the installation did not start.
I uploaded the installation file, SUPERAntiSpyware.exe, to Google's VirusTotal site at www.virustotal.com to have the executable file scanned by the multiple antimalware programs used by that service. Someone else had uploaded the file to be scanned earlier in the day at 2020-01-27 16:56:03 UTC, but I rescanned it since VirusTotal had indicated there were some timeouts for some of the antivirus programs when it scanned the file previously. None of the antivirus programs used by VirusTotal flagged the file as suspicious or dangerous (detection report). When I checked the details provided for the file on the VirusTotal site, I saw the following:
Basic Properties
| | |
| --- | --- |
| MD5 | 9b884834a669223360ef35408b37e056 |
| SHA-1 | 04e18edf36d69a1a42583336dae8db7f1f3f1665 |
| SHA-256 | 725f3edc38e7f595d7ad0eae9e23bdb7636066e2f5b1d79674c3924d98d000f3 |
| Vhash | 047056655d1555528013zc0098z6021z31z90900480308bz |
| Authentihash | d7c76de0310c3da68fa050757bae920e4527369fd6024c3758294a3c05b4fb4d |
| Imphash | 29cd977c98208a0fad4a51c06df0ff42 |
| SSDEEP | 786432:BUSo/PiRlDhhvckj9My+FCyIo48PrURu3WbP6RAs4qEbuzPf6wEZZzApGUpeuEcK:BUNaRxDckjX+gyIo48P2vbfs4hwP4Zu6 |
| File type | Win32 EXE |
| Magic | PE32 executable for MS Windows (GUI) Intel 80386 32-bit |
| File size | 42.08 MB (44122768 bytes) |
History
| | |
| --- | --- |
| Creation Time | 2019-01-04 20:20:03 |
| Signature Date | 2020-01-27 15:27:00 |
| First Submission | 2020-01-27 16:56:03 |
| Last Submission | 2020-01-27 16:56:03 |
| Last Analysis | 2020-01-28 02:25:56 |
The provided details also showed the file was digitally signed with a valid signature (details report).
So I restarted the installation process and this time, when the Windows Defender window appeared, clicked on the "More info" link in the window, which gave me the option to proceed with the installation by clicking on a "Run anyway" button, which allowed the installation to complete successfully.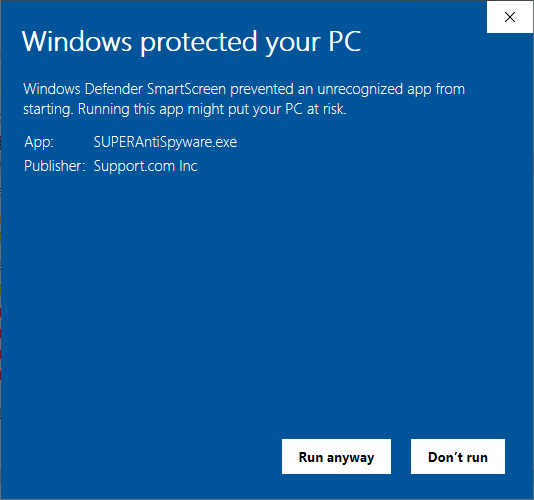 When I ran SUPERAntiSpyware after the installation completed, it did not find anything except tracking cookies.