Radeon 9250 with Windows 7
I installed Second Life on a family member's PC. When I started the program, I saw the following:



Error
Second Life is unable to run because your video card drivers did not install properly, are out of date, or are for unsupported hardware. Please make sure you have the latest video card drivers and even if you do have the latest, try reinstalling them.

If you continue to receive this message, contact customer serive.

[ OK ]

This is what the Windows Device Manager showed for the video card: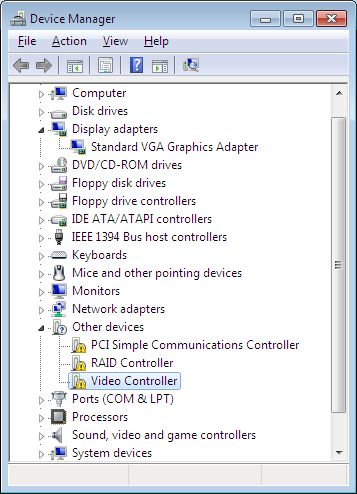 When I opened the system's case to check the video card, I found it was an AGP video adapter from ATI Technologies, Inc.. I looked for a model number on the card. I saw "R92LE Ver. 1.2" on the front of the card and "R92L-LL3" on the back. When I searched online for information related to those, it appeared the adapter was an ATI Radeio 9250 video adapter.
I tried to update the video driver through the device manager by having Windows search for an updated driver, but it didn't find one. I couldn't find a driver for Vista or Windows 7 on the manufactuer's website. On the ATI Certified Partner Graphics Cards - TUL Corporation webpage, I saw the following for the ATI Radeon 9200 and 9250 cards:
| Chipset | Product Retail Name | Memory | Bus | Connectors |
| --- | --- | --- | --- | --- |
| Radeon 9250 | Powercolor 9250 GameFX Board Series (R92U) 128MB | 128MB | AGP4x,8x | CRT, DVI-I & TV Out |
| Radeon 9200 | PowerColor Radeon 9200 PCI 256MB (R92P-D3L) | 256MB | PCI | CRT, DVI-I & TV Out |
| | Radeon 9200 (R92LE-C3S) | 128MB | AGP 8X | CRT, DVI-I & TV Out |
I downloaded Catalyst™ 6.11 Display Driver for Windows XP Professional/Home Edition version 6.11, which was posted to the manufacturer's website on November 15, 2006. The package contains the following:
Display Driver
Catalyst Control Center
WDM Drivers
When I ran the downloaded 6-11-pre-r300_xp-2k_dd_ccc_wdm_38185.exe , it created a C:\ATI directory. The installation failed, though.
Severe
X

Setup was unable to complete the installation. Try to setup your display adapter with a standard VGA driver before running setup.

OK
So I tried installing the driver by right-clicking on Video Controller under Other devices in the Device Manager and then selecting Properties. I then chose to update the driver and browsed to the location on the hard disk where the driver files were placed during the previous installation attempt, i.e. C:\ATI. During this installation attempt, I saw the message "Windows encountered a problem installing the driver software for you device". The device was identified as "RADEON 9250 - Secondary".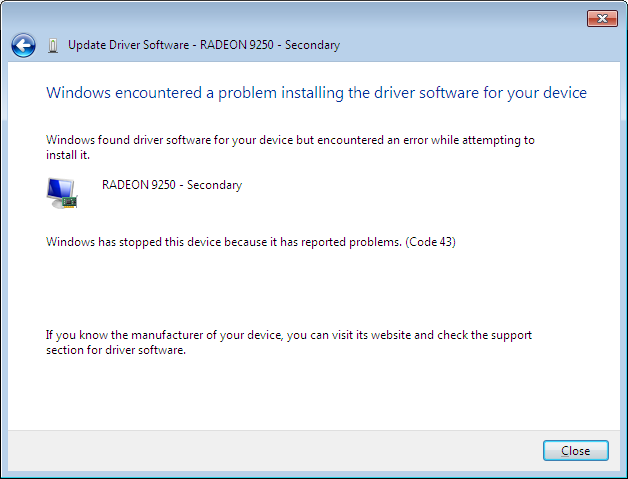 When I checked the Device Manager, it appeared that a Radeon 9250 device driver was loaded, though immediately beneath it I saw "RADEON 9250 - Secondary" with a exclamation mark in a yellow triangle.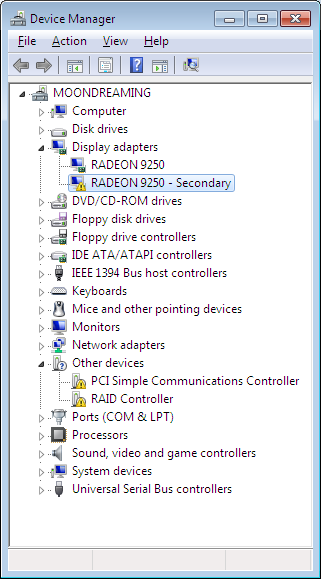 Second Life still prodiced the same error message as before when I tried to run it, however.
When I checked the driver properties in the Device Manager, I saw the following:
| | |
| --- | --- |
| Driver Provider: | ATI Technologies Inc. |
| Driver Date: | 5/3/2006 |
| Driver Version: | 8.252.0.0 |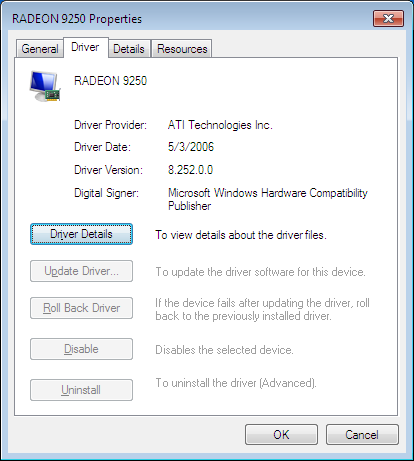 I saw another driver available for download from download drivers at the PowerColor Offical Website, but the version for that driver appeared to be an earlier version, i.e. 8.241 versus 8.252, judging from the file name, which was 8241xp2k.exe, even though the date on it was later, i.e. the date listed was 2007/5/30.
| | | | | | | |
| --- | --- | --- | --- | --- | --- | --- |
| Product Name | Chipset | Catalyst | Version | OS Compatibility | Update | Download |
| 9250 128MB64BIT_c6.4 | PowerColor Radeon 7000/9250 series Display Driver | 6.4 | | WinXP/ 2000 | 2007/5/30 | Download 1 Download 2 Download 3 |
| 9250 256MB128Bit_6.4 | PowerColor Radeon 7000/9250 series Display Driver | 6.4 | | WinXP/ 2000 | 2007/5/30 | Download 1 Download 2 Download 3 |
The system has an ASUS P4P400-E motherboard. I found others reporting issues with drivers for this motherboard under Windows 7 at Various issues with Windows 7 on an Asus P4P800E-Deluxe... And at Catalyst Radeon 9250 driver issues in Windows 7 RC, I found a September 30, 2009 posting from someone else who had upgraded a Windows XP system with a Radeon 9250 to Windows who encountered problems with the display driver under Windows 7.
One responder, cdallen, stated "If you intend to use VISTA or Windows 7 GIVE UP ON your ATI 9250 or any other older video cards. they only work right with XP, NT2k, ME Win98-95. it's an issue with the VPU. it's the reason there are no updated drivers." Another responder, Linda Yan, who was a moderator for the foru, stated "According to RADEON 9200 SERIES Specifications, ATI Radeon 9250 does not support Windows Vista and later operating systems. Therefore, you may have to replace your video card to resolve this issue."
The OS support listed in those specifications for the card is as follows:
Operating system support

Windows® XP
Windows® 2000
Windows® Me
Windows® 98/98SE
I also found people posting about problems getting a Radeon 9250 driver to work under Windows 7 at Radeon 9250 driver ? Can't get this to work on Win 7. In that forum thread, I found a May 10, 2009 posting by regli stating he had found a driver that worked ok.
Just incase you haven't found an answer. Here is my crosspost with a solution for these pesky old ATI Radeon cards:

-------------------------------------------------------------
Here is my experience that might help some lost souls out there who hit on this forum because they are searching for x86/32bit legacy ATI drivers for Windows 7.

I decided to install Windows 7 RC on some legacy hardware. One a Pentium 4 2.4 using an ABit SR7-8X board with 512MB and an ATI Radeon 8500 graphics card. The other based on an Athlon XP 1600+ on an ASUS A7A266 board with 1.25GB using an ATI Radeon 9250.

As most found out, the Windows 7 install, if via a Vista upgrade or a fresh install will simply ignore the Radeon and install a standard VGA driver that is very slow and limited to 1280*1024 max resolution.

I then decided to install the latest XP ATI Catalyst drivers from AMD (6.11). Though the Catalyst is not supported, the driver install worked without a hitch. I could now set my resolution to 1920*1200 and everything looked fine. The next problem arose when I tried to shut down or reboot. Every single time ATI2dvag crashed just about at the end of the shutdown process with a BSOD. Twice it resulted in a corrupted registry, once unrecoverable necessitating a reinstall.

Back to search for a better solution. I then installed Vista and discovered that Microsoft installed a newer XDDM driver (6.14) as part of the XP upgrade. In Vista, this driver didn't crash the system under any circumstances I tried. As I couldn't find this driver on the net anywhere, I decided to extract it.

It is posted here:

http://rapidshare.com/files/231461174/Vista_ATI_Radeon_XDDM_6.14.10.6606.zip

Download it and you can now install this driver via the device manager/browse my computer for driver software/let me pick from a list. You might need to turn off "show compatible hardware" and then look for the extracted ".inf" file in the display directory.

Once installed, everything works fine for me on both machines. I get a 1.9 score for both cards on the Aero performance scale but a 1.0 for gaming graphics. My guess is that it doesn't even test the gaming score as it reports in the detailed performance information no dedicated graphics memory despite the fact that both of these cards have it.

I didn't test any games but ran DVD quality videos from the hard disk using Kmplayer and Media Player. Though Kmplayer clearly performed better, both of them did a good job. A few artifacts were visible in fast moving scenes but otherwise it was very watchable in 1920 * 1200 full screen mode.

This exercise demonstrates that Windows 7 works very nicely and MUCH better than Vista with legacy hardware, in fact with very old hardware. It also points out that systems with onboard chips or graphics cards based on the 7 series, 8 series or 9 series ATI Radeons are not a lost cause for Windows 7.
I did download the Vista_ATI_Radeon_XDDM_6.14.10.6606.zip file mentioned in that posting to try, if needed.
There is also a driver, ATI Radeon 9250 AGP Driver Download from DriverGuide.com, but you need to join to download the driver. I don't know the version for that one. I also searched The guru of 3D site for Radeon 9250 downloads, but didn't find anything that looked promising.
However, after I rebooted the system Second Life then worked, so I didn't make any further changes.
References:

Created: Thursday December 31, 2009