Corsair ValueSelect VS1GB333 Memory Module
| | |
| --- | --- |
| Description: | 1GB, 184-pin DIMM, DDR PC2700 memory module |
| Part number: | VS1GB333 |
| Module Size: | 1GB |
| Package: | 184-pin DIMM |
| Size: | 1GB Kit (1 x 1GB) |
| Memory Type: | DDR1 |
| Specs: | DDR PC2700 • 333MHz • 2.5V |
| Memory Configuration | Single Module |
| Speed Rating | PC-2700 (333MHz) |
| SPD Speed | 333MHz |
| Tested Speed | 333MHz |
| Tested Voltage | 2.5V |
| SPD Voltage | 2.5V |
| Tested Latency | 2.5-3-3-7 |
| SPD Latency | 2.5-3-3-7 |

Features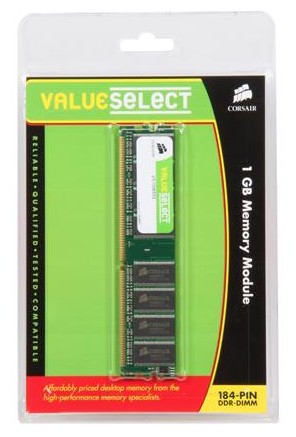 | | |
| --- | --- |
| Form Factor: | 184-pin |
| Manufacturer: | Corsair Memory |
| Manufacturer Website: | www.corsair.com |
| Memory Size: | 1GB |
| Memory Technology: | DDR SDRAM |
| Standard Warranty Lifetime: | Limited |
| Manufacturer Part Number: | VS1GB333 |
| Memory Speed: | 333Hz |
| Memory Type: | DDR1 |
| Product Name: | 1GB DDR SDRAM Memory Module |
| Product Type: | RAM Module |
UPC

SKU # VS1GB333
VS1GB333 G
RoHS/Pb-FREE
8221121000940
Purchase
Amazon.com
Compuvest
Newegg.com
A dual inline memory module (DIMM) consists of a number of memory components (usually black) that are attached to a printed circuit board (usually green). The gold pins on the bottom of the DIMM provide a connection between the module and a socket on a larger printed circuit board. The pins on the front and back of a DIMM are not connected to each other.
184-pin DIMMs are used to provide DDR SDRAM memory for desktop computers. Standard 184-pin DIMMs are available in PC1600 DDR SDRAM, PC2100 DDR SDRAM, PC2700 DDR SDRAM, and PC3200 DDR SDRAM.
To use DDR memory, your system motherboard must have 184-pin DIMM slots and a DDR-enabled chipset. A DDR SDRAM DIMM will not fit into a standard SDRAM DIMM socket.
The number of black components on a 184-pin DIMM can vary, but it always has 92 pins on the front and 92 pins on the back, for a total of 184. 184-pin DIMMs are approximately 5.25 inches long and 1.25 inches high, though the heights can vary. While 184-pin DIMMs and 168-pin DIMMs are approximately the same size, 184-pin DIMMs have only one notch within the row of pins.
ValueSelect memory is tested to Corsair's tough standards and is stable, relable, and compatible with virtually all major motherboards and desktop systems. Backed by a limited lifetime warranty.
La memoria Value Select ha sido probado bajo los estrictos estándares de Corsair, es constante, confiable y compatible con casi todos los sistemas PC y tarjetas madres. Validada con garantia limitada de por vida.

Created: Monday April 9, 2012