Belkin USB Wireless KVM Switch M/N:F1DG102W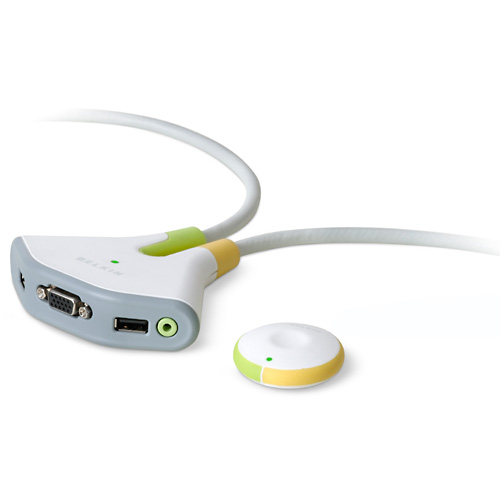 Flip Wireless - Two computers. One monitor. No problem.
Something old. Something new. Half the space.
Keep your old computer for access to your financial records, games, email, and more. Use your new monitor for both computers. Flip eliminates the clutter of multiple PCs - by letting you use one monitor, keyboard, and mouse and one set of speakers for both computers.
Click. Flip.
Place the wireless remote anywhere within 10 feet of your computers. Press the button to flip from one computer to the next. Simple. With no commands to remember or key combinations to forget. Flip can be used by anyone.
Plug in Turn on.
Flip installs in three easy steps, using the included cables. No software is required. The KVM switch and cables stay behind your computers, keeping your desk free of clutter.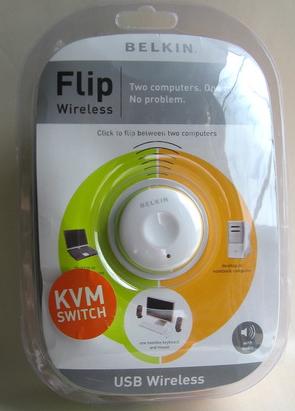 Package includes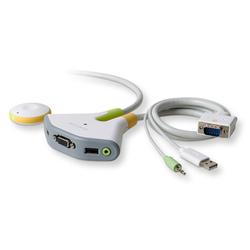 Wireless Remote
KVM Switch with cables
Monitors Supported
VGA and DVI-I (with VGA adapter)
Maximum Video Resolution
Up to 2048 x 1536 @ 65Hz
Keyboards and Mice Supported
All USB-based PC and MAC® keyboards and mice
Speakers Supported
All speakers with standard 3.5mm connectors
System Requirements
Windows® 2000, XP, 2003, or Vista™
Mac OS® v10.0 or higher
Linux®
Product Details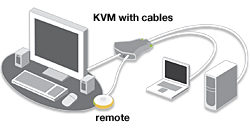 Product Features and Technical Details
Product Features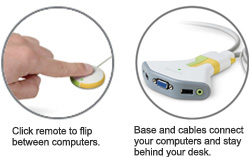 Package Contents - wireless remote, base with cables, optional fastener strip, user guide
Shares 1 monitor, USB keyboard, and USB mouse between 2 computers
Shares 1 set of speakers between computers
Connects instantly to notebook computers
Supports notebook and desktop computers
Supports high video resolutions up to 2048x1536
Supports monitors with VGA connections
Features a 2-color LED that indicates which computer Flip is accessing
Installs in 3 easy steps with no software required
Comes with a Belkin 3-Year Warranty
Technical Details


Console Connections: 1
Computer Connections: 2
Keyboard Port Type: USB
Monitor Port Type: VGA (15-Pin D-Sub)
Mouse Port Type: USB
Audio Ports: Audio Out
Power Supply Type: Bus Powered (No External Power Adapter Required)
Power Supply Type: Draws Power from USB Port
LEDs: 2 Port LEDs
Port Selection: Hot-Keys
Port Selection: Remote Control
Belkin Product Warranty
3-Year Warranty and free technical support
Belkin International, Inc.
310-898-1100
Los Angeles, CA 90220, USA
Belkin Ltd.
+61 (0) 2 4350 4600
Tuggerah, Australia
P47434-A
Made in China

Created: July 18, 2009