Kronus 20-Piece Electronics Bit Driver Set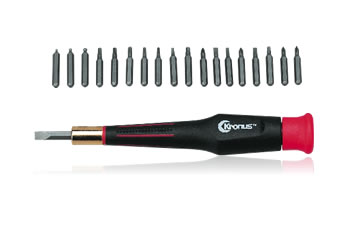 This Kronus 20-piece electronics bit driver set comes with many different types of screwdriver bits to accomodate different types of screws. The set has screwdrivers and bits for slotted (aka flat or straight), Phillips, Pozidriv (aka Pozi, SupraDriv), and Torx, (aka star) screws. It also has hex key (aka allen, zeta, or Unbrako) bits and hex round ball bits.
Get versatility, torque and antistatic protection! This Kronus. 20-piece electronics bit-driver set features alloy steel tips for tool durability and rust resistance. Ergonomic, anti-static handle rotates for greater torque. Kronus. tools by RadioShack compare with the best in the industry. Precision-crafted and ruggedly constructed of durable materials, they're built to last. And Kronus tools are backed by a limited lifetime warranty. Plus, they're engineered to help you get the job done right, with comfort, convenience and ease. These bit drivers are useful for precision electronics projects, hobbies or household wiring needs.
Features
Alloy steel tips provide durability and rust resistance
Ergonomic anti-static handle rotates for greater torque
Fully demagnetized to protect your electronics devices
Secure, metal bit holder prevents slippage and keeps fastener aligned
Convenient carrying case

What's included
1 x Ergonomic Anti-Static Handle
4 x Slotted Bits (2, 2.5, 3, and 4mm)
2 x Phillips Bits (#00, and #0)
5 x Torx Bits (T-6, T-7, T-8, T-9, and T-10)
3 x Hex Bits (1.5, 2, and 2.5mm)
2 x POZI Bits (#00, and #0)
3 x Hex Round Ball Bits (1.5, 2, 2,5mm)
1 x Plastic Carrying Case
Note: the handle is not designed to be an electrical insulator and will not protect against electical shock.
Screwdriver Bits - 19
Slotted (aka flat or straight) - 4
2 mm
2.5 mm
3 mm
4 mm
Phillips - 2
#00
#0
Torx - 5
T6
T7
T8
T9
T10
Pozidriv - 2
#00
#0
Hex (metric) - 3
1.5 mm
2 mm
2.5 mm
Hex Round Ball bits (metric) - 3
1.5 mm
2 mm
2.5 mm
Manufacturer's Model Number: 64-2973 (640-2973 also appears on the back above the UPC)
RadioShack Catalog #: 64-2973
Manufacturered in China for
RadioShack Corporation
Fort Worth, Texas 76102 USA
UPC: 040293006532