Test-Um TG100 Multi-Function Tone Generator
The Test-Um TG100 multi-function tone generator allows one to trace and test phone lines. Requires one 9V alkaline battery, which is included.
The compact, ergonomic Tone Generator offers several easy-to-use capabilities to conduct line tracings and ensure proper signal path quality for data and voice installations. In addition to auto-off, multiple tone function, full talk battery, and low battery indicator, the Tone Generator performs wire and cable identification without having to make direct contact with a metallic conductor. Constant tone amplitude over the life of the battery means accurate and traceable tones even at end of battery life. Two tone amplitude levels —normal and half —extend tone reach. Quick-change tips enable easier use in the field.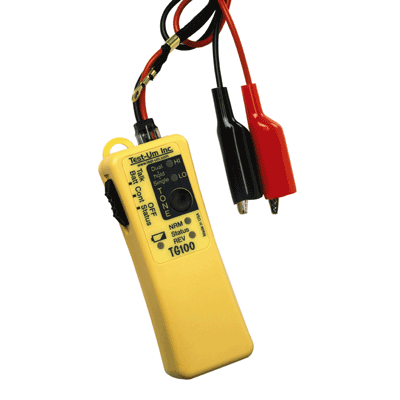 Features
Three built-in tones, one steady and two warbles, for multiple lines testing
Constant tone amplitude over life of the battery means accurate and traceable tones, even at the end of battery life
Two tone amplitude levels, normal and half, let the user extend the tone reach
Auto-off protects the battery life
Tone may be added to any mode for using phone sets without monitor mode
Power-saver feature in continuity mode to preserve battery life
Separate Talk Battery mode for increased voltage and power for test sets
Modular jack allows multiple cord sets to be used for different applications
Applications
Applications
Sends tone for tracing
Checks status of a phone circuit
Checks continuity of a circuit
Supplies talk battery power
Manufacturer: Test-Um Inc.
Website: www.Test-Um.com
Phone: 805-383-1500
Part No.: TG100
UPC: 6 79364 00211 00211 3



Note: Test-Um was acquired by JDSU on May 4th, 2006
Purchase souces:
---
Documentation

Data Sheet

Tone Generator (PDF, 0.17 MB)

Manual and User Guide

Tone Generator, Multi-Function User's Guide (English) (PDF, 0.42 MB)

Tone Generator TG100 TG101-TU9830 (German) (PDF, 0.16 MB)

ToneGenerator KP100-TU9830 TG100 (Spanish) (PDF, 0.17 MB)

Tone Generator TG101 TG100 (French) (PDF, 0.19 MB)

ToneGenerator KP100-TU9830 TG100 (Italian) (PDF, 0.19 MB)

Created: Wednesday April 29, 2009 10:23 AM