Tool Bench Hardware Hacksaw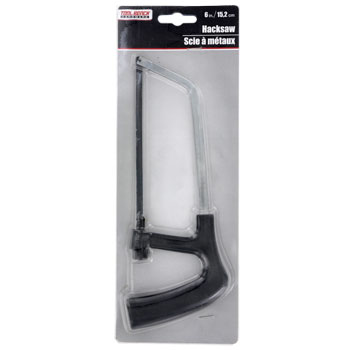 Length: 16in./15.2cm
Product Details
The perfect tool for handling small cutting jobs! The 6" handheld hacksaw has a sturdy plastic handle designed to provide smooth cuts through metal and plastic without the need for electricity. Perfect for plumbers, handymen, maintenance departments, and home use.
Features
Perfect tool for handling small cutting job
Sturdy plastic handle
6" blade
Smooth cuts through metal
SKU#: 196786
UPC


639277967862
196786 1502
Warning: Using handtools can be dangerous. Always take care and keep away from children. Wear protective eyewear at all times.
Imported By:
In USA:
Greenbrier International, Inc.
500 Volvo Parkway
Chesapeake, MA 23320
In Canada:
DTSC Imports
Burnaby, MC V5G 4P3
Made in China

Created: