Dynex External USB Drive Enclosure - M/N: DX-HDEN10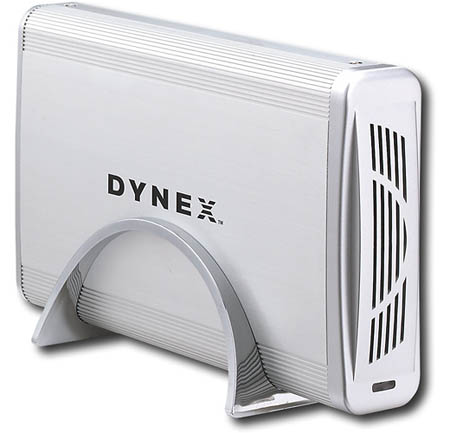 Dynex DX-HDEN10 aluminum USB 2.0 hard drive enclosure for 3.5 IDE ATA drives.
Manufacturer: Dynex
Model number: DX-HDEN10
Amazon ASIN: B001CJQ8YU
Turn your internal IDE, aka PATA hard drive into a high-speed external one with this USB 2.0 hard drive enclosure. Note: this enclosure does not support Serial ATA (SATA) drives. Also note that you may have to set the hard drive jumper to the "master" position before placing the drive in the enclosure.
Product Features:
For 3.5" ATA/ATAPI-6 hard disk drives
Supports up to 400GB hard drive
USB 2.0 high-speed interface with transfer speeds up to 480 Mbps
Supports 8 or 16-bit standard PIO mode, 16-bit multiword DMA and Ultra DMA mode interfaces
3.3V tolerance pad for IDE interface
Aluminum shell and superslim, portable design
Quick and easy installation
Product Details:
Case Type: Hard drive enclosure
Speed: Up to 480 Mbps
System Requirements: Windows 98 SE, 2000, ME, XP, Vista; Mac OS 8.6 or later
Additional System Requirements: Driver required for Windows 98 SE (included on CD)
Power Adapter
Manufacturer: SINCHO
Model Number: SW34-1202A02
Description: SINCHO SW34-1202A02 AC DC ADAPTER 5V 12V 2A 5Pin SWITCHING power supply for external HDD Enclosure ACS-300, DYNEX 3.5" hard drive external enclosure, Seagate 7200.10 & more.
Product Manual

Dynex Aluminum USB 2.0 Hard Drive Enclosure Manual