Perky-Pet Triple Play Pole Set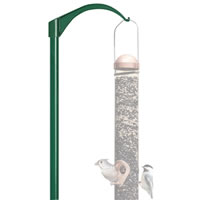 6 1/2 ft
1,1 m (6 1/2 pi.)
1.10m
Item Weight: 3.5 pounds
Can be used for mounting or hanging bird feeders. This versatile bird feeder pole set can be used with wooden feeders as well as plastic styles and allows for hanging or pole mounting of feeders.
Perky-Pet Brand No. 72
Pole Installation
Select a location with firm ground. Sand, gravel or other loose ground may not provde enough firmness to support your pole. Once a site has been chosen, select the pole sections with the spaded end and place it over the spot where you will drive it into the ground.
To prevent possible damage to the pole end when driving it into the ground, we suggest the following:
Place a thick piece of wood or hard lumber on top of the pole to serve as a 'cushion' and then hammer into ground. Or - use a rubber mallet to drive the bottom section into the ground.
DO NOT use a standard metal hammer to other hard metal object to directly hammer pole into the ground. This could damage the pole opening, and prevent insertion of the next pole section!
Because ground firmness varies from place to place, the depth that you will ned to have your pole into the ground will vary. We suggest starting with 5 or 6 inches of the first section showing above ground leve.
Wood Feeders/houses

Simply center the rectangluar adapter piece on the bottom of the feeder/house and then attach with the four mounting screws provided. Then slip onto pole end.

Pole Mount Feeders with built-in Mounting Holes

The pole will fit feeders with 3/4-inch holes or larger. For larger mounting hole feeders, use the enclosed strip of foam tape to reduce feeder from swaying. Additional tape, such as masking tape (not included), may be required for very large feeder mounting holes.

Hanging Feeders/houses

Use the included hanging hook to hang feeders/houses up to 6 lbs.
Manufacturered & Guaranteed by
Fabricado y Garantizado por
Woodstream Corporation
69 North Locust Street
Litilz, Pennsylvania 17543
800.800.1819
Made in China/Hecho en China

UPC: 078978072008

Created: Saturday January 16, 2010