Avoiding the installation of adware when installing Vuze
The Vuze VuzeBittorrentClientInstaller.exe file, which for version 5.5.0.0 of Vuze is 70.3 KB (72,008 bytes) is just a "stub installer" file. When you run it, it will download an additional 17.2 MB of data for the installation. At the setup window that appears, you must check the checkbox next to "Customize" if you want to avoid adware bundled with Vuze. Unless you have no concerns about security and privacy online, including whether the adware bundled with Vuze can potentially view userids, passwords, and credit card numbers you might enter at websites (see Proxy server configured to d2e24t2jgcnor2.webhostoid.com), I'd strongly recommend you avoid the adware bundled with Vuze by checking this option before clicking on "Agree"; the default setting for this option is to have it unchecked.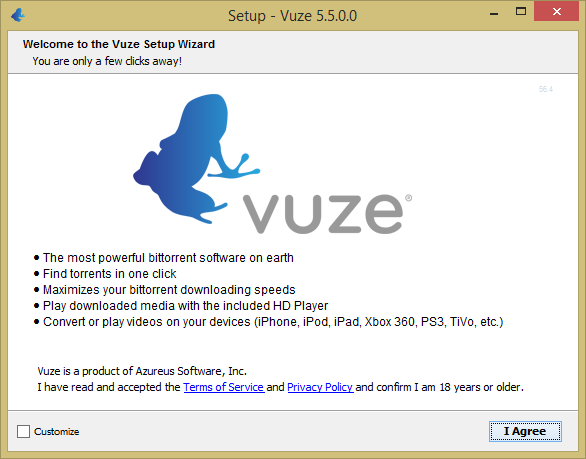 If you select the "Customize" option, at the next window, you can configure installation options, including the directory where Vuze will be installed.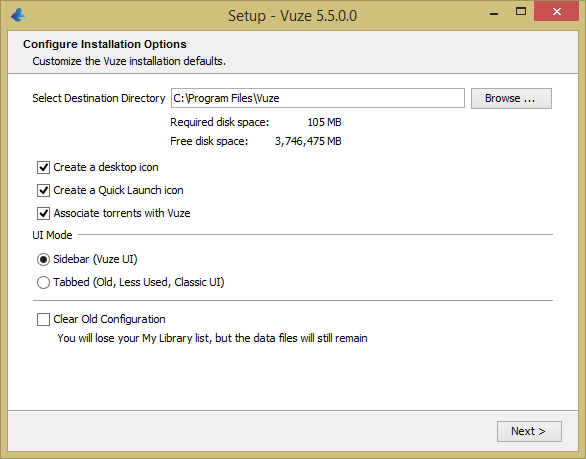 At the next "Install Vuze Offer" window, do not leave "Express install includes the extensions by Spigot (Browser Extensiions(IE), Shopping Assistant/New Tab Helper(GC), Slick Savings/StartPage/Ebay Assistant(FF). Set Yahaoo! as my default search, home & new tab pages (IE/FF/GC)." selected. Instead, select "Custom install (for advanced users). If you don't want your default search engine changed, uncheck "Make Yahoo! my default search (IE/FF/GC)" to preserve the settings you had in Internet Explorer, Firefox, and Google Chrome. Also uncheck "Install the Extensions by Spigot (Browser Extensions (IE), Shopping Assistant/New Tab Helper (GC), Slick Savings/StartPage/Ebay Assistant(FF))".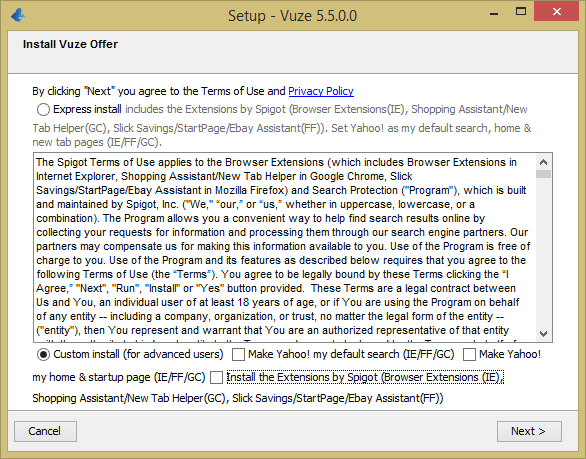 At the next window, you will see "Recommended by Vuze: GeniusBox", with "GeniusBox adds a useful dock at the top of popular websites, which provides related search results and search page adds which are not affiliated with the underlying websites. To enable our features, GeniusBox installs as a local proxy and collects information about your online activities, including the content of encrypted web pages." Do Not click on the Accept button on this screen; click on Decline. If you click on Accept, the bundled GeniusBox adware software will be installed.
The Terms of Service (the version at the GeniusBox website is accessible here) for the bundled GeniusBox software state "The GeniusBox Application may protect itself from unwanted third party software trying to interfere with it or disable it." They are likely referring to antivirus and antispyware software that may try to remove this security and privacy threat from the computer on which it was installed. That statement implies to me that they will try to evade anti-malware software; I'd be wary of the techniques they may employ to that end. The Terms of Service for the software do mention "that it may interfere with the functionality of other applications."
The Terms of Service list the following company as being behind this adware:
GeniusBox/Wisconsin Technology Group
11414 W. Park Pl. Suite 202
Milwaukee, Wisconsin 53224-3500
The GeniusBox Privacy Policy states "GeniusBox does not, generally, track or maintain personally identifiable information about consumers that use our Services." You would have to trust them on that, since the method they use to insert their ads gives them the capability to spy on all web traffic, HTTPS as well as HTTP. The privacy policy also states "You should also be aware that communications sent over the Internet are not secure unless they are encrypted. GeniusBox does not encrypt your communications through the Services." By installing a proxy server on your computer along with a trusted root certificate and routing HTTP and HTTPS traffic through their proxy server, they are effectively nullifying the protection you would otherwise have from encrypted HTTPS traffic, since they are a "man-in-the-middle" between your system and websites utilizing HTTPS to protect traffic from eavesdropping by third parties
After declining the installation of the GeniusBox software, I saw a "Vuze Featured Content" window advertising The Island Book Series. It looked interesting to me, though at that point given the prior recommendation to install the GeniusBox adware, I was wary of any offers from Vuze, I clicked on Accept to see what would happen. But, in this case, it simply led to Vuze downloding a book in epub format along with a JPG image, and an HTML file at the conclusion of the Vuze installation. Double-clicking on the HTML file took me to the The Island Book Series webpage, which requested an email address to "unlock the full bundle".

Created: Sunday January 18, 2015