Using GSpot to Identify Missing Codecs
If you try playing a movie file, such as an AVI file, and it won't play, because of a missing codec, you can use the GSpot Codec Information Appliance to identify the missing codec.

When you start GSpot, it shows you how many codecs are loaded on the system in its Status field. If you wish to have a list of all the installed codecs, you can click on System and then select List Codecs and Other Filters. You can also use InstalledCodec from NirSoft to list all codecs on a system.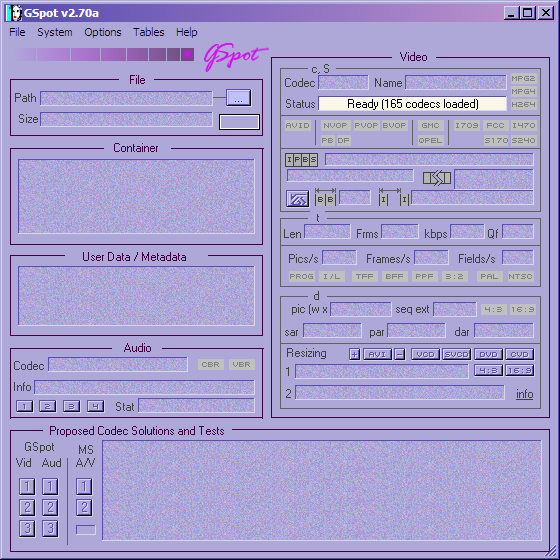 To determine which missing codec is needed by a particular movie file, click on File, select Open, and then browse to the file's location. If a video codec is missing, you will see the missing codec listed in the Video section of the GSpot window. Information on audio codecs is provided in the Audio section. In the example below the following video codec is missing.
Codec: DIV3
Name: DivX 3 Low-Motion
Status: Codec(s) are NOT Installed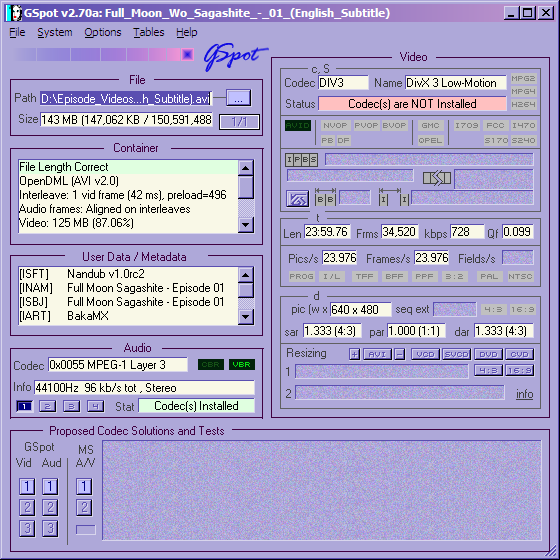 GSpot also provides other information about the movie file, such as the length, which is about 24 minutes in the example above.
GSpot can also be used to show problematic codecs on a system. If you click on System and select List Codecs and Other Filters, you will see those with problems displayed in red.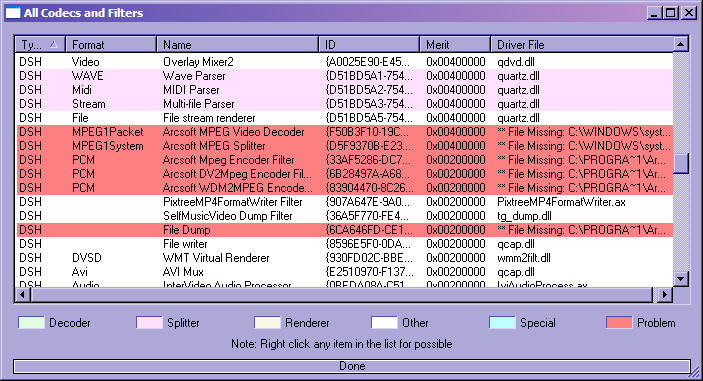 You can right-click on the problem codec and select Details for further information on the codec.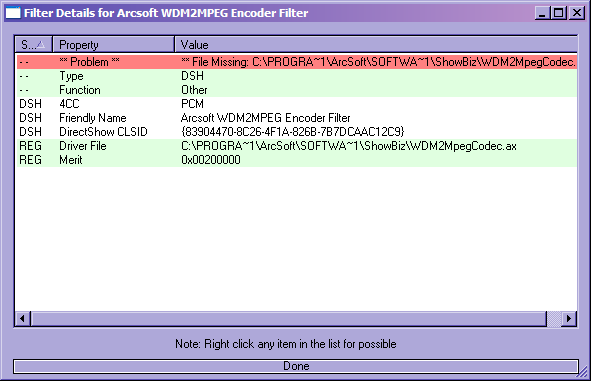 In this case, to supply the missing "DivX 3 Low-Motion" codec, I went to DivX.com and downloaded the free DivX Codec and DivX Player. The site also offers a DivX Converter for sale. The DivX Converter converts videos to DivX. The free version contains the following:

    * DivX Player 6.8.2
    * DivX Community Codec 6.8.4
    * DivX Web Player 1.4
    * DivX Converter 6.6.1 (15-day trial)
    * DivX Pro Codec 6.8.4 (15-day trial)

Once you have install the missing codec, if you close and reopen, GSpot, you should see "Codec(s) are Installed". Note: it isn't sufficient to simply reopen the movie file, you need to close and reopen GSpot so that it checks the installed codecs again.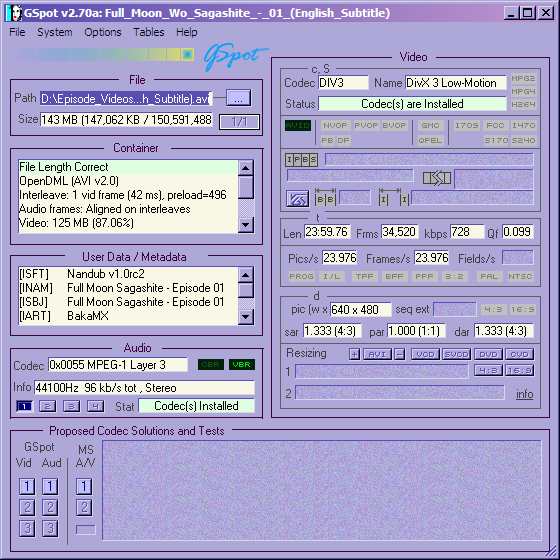 GSpot requires no installation process other than unzipping the Zip file that you download and placing the directory wherever you wish it to be located on your system. The executable file is GSpot.exe.
I verified that GSpot.exe, for the 2.70a version I downloaded, was free from malware, such as adware/spyware, by submitting the file to Virustotal for analysis. Virustotal reported the file, which has MD5 message digest 2d7c1f659699d6da65e1f9b70b84c2c4, had been analyzed previously on 2008-08-15 with 36 separate antivirus/antispyware programs and been found free of malware (see Virustotal Report).
Note: an alternative to dealing with missing codecs that prevent movies or audio files from playing in Windows Media Player or other audio/video players, you can use VLC media player, which supports a large number of multimedia formats, without the need for additional codecs (see VLC Media Player for a list of supported file types).
Download GSpot
References:

Created: Saturday August 23, 2008 3:36 PM