Flash Saving Plugin
I wanted to be able to view Flash movies stored in Firefox's cache. I.e., ones that Firefox had stored on the system's hard disk when webpages containing Flash files were viewed [Note: information about the cache can be obtained by typing about:cache in the Firefox address bar]. Flash files are .swf files that can contain video and audio.

I found a free program, Flash Saving Plugin, that allows one to view cached Flash SWF files stored in the Firefox cache. It also allows one to view Flash files stored in Internet Explorer's cache. For Internet Explorer, it adds a button to the Internet Explorer toolbar, so that you can just click on the button to save any Flash file on a webpage you are viewing. The button displays the names of all Flash movies that are loaded on the current web page. Click a name and the corresponding Flash movie is saved to the folder specified.

To verify that the Flash Saving Plugin download file was safe, I uploaded FlashSavingPluginSetup.exe to VirusTotal - Free Online Virus and Malware Scan. That site scans files uploaded to it with multiple antivirus and antispyware programs. When I submitted the file to the site, tt reported the file had already been analyzed and found to be safe. It had been last tested on August 1, 2008.
File has already been analysed:
Since a VirusTotal scan on 2008-08-01 had not found any malware associated with the software, I installed the software.
During the installation, You will be prompted to close any open browser windows while installing the software. The default installation directory for the software is C:\Program Files\UnH Solutions\Flash Saving Plugin.
After installing the software, I ran SWF Cache Viewer, which you can run by clicking on Start, selecting UnH Solutions, and then selecting SWF Cache Viewer.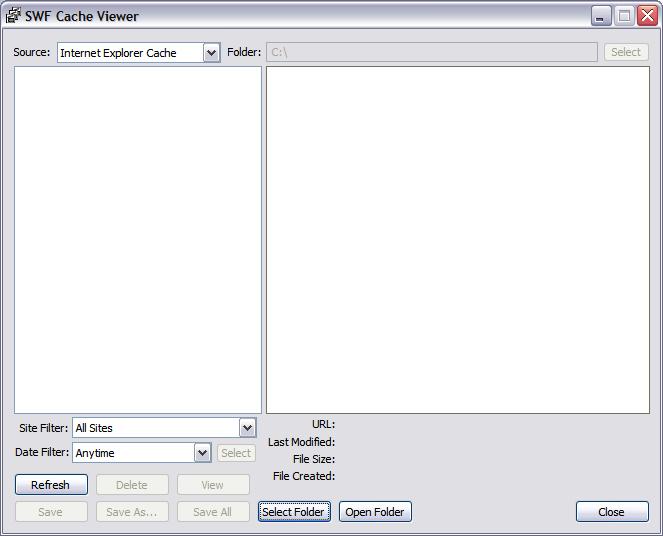 I changed the Source field from Internet Explorer to Mozilla Firefox Cache.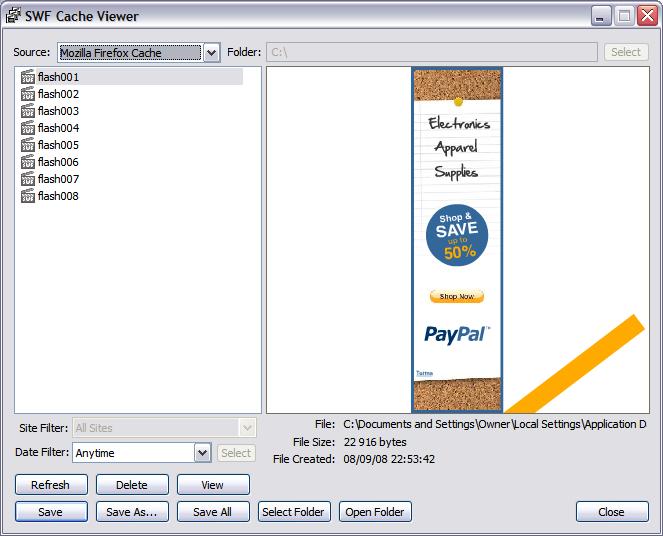 I saw 8 flash movies listed named flash001 through flash008. I could click on the Date Filter field to filter the movies so that I would only see those for the date or date range I specified. I could click on each of those names to see the flash movie. I could save the SWF file elsewhere on the system by clicking on the Save As button.
Download
Developer Website
MoonPoint Support