Freeing Disk Space on a Windows System
If you start running out of space on drive C on a system running Windows 2000, XP, or 2003 server, you can use the Disk Cleanup tool that Microsoft provides by taking the following steps:
Click on Start.
Select Programs or All Programs depending on your operating system.
Select Accessories.
Select System Tools.
Select Disk Cleanup.
A window will open allowing you to select the drive to cleanup. You can clik on OK to use the default option of drive C:.

Disk cleanup will then scan the drive and, when it is finished, present a list of items that you could remove from the system to obtain more free space on the drive.

You can select the options you want to use by clicking on them. You can also click on the More Options tab, which will give you additional removal options, which include removing Windows components you aren't using, installed programs you may no longer be using, and old system restore points.

When you are finished, click on the OK button. You will be asked "Are you sure you want to perform these actions?" If you are, click on Yes.
You can also free more disk space by deleting hotfix uninstall directories under the system directory, which is usually c:\windows or c:\winnt (you can find out which directory is being used by obtaining a command prompt and typing echo %systemroot%). These will be directories that start with $NTUninstall.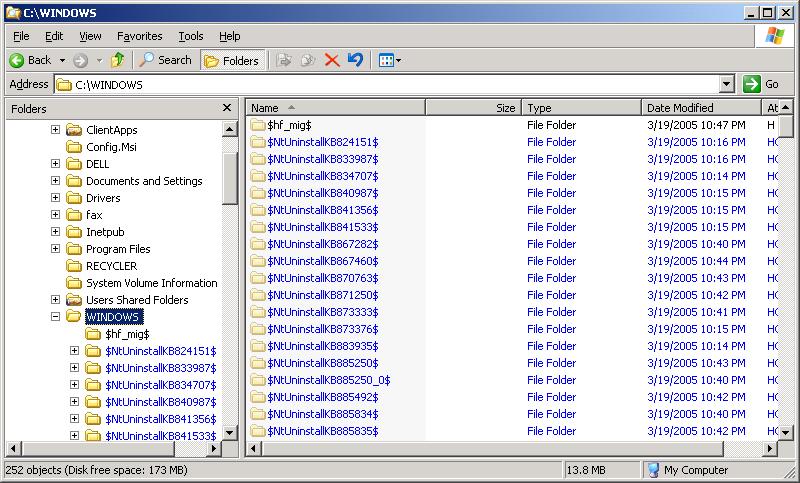 If you don't see such directories, you may not have the option turned on to view hidden and system files and directories. To view such files and directories, in the Windows Explorer, click on Tools, then Folder Options, then View, and under "Hidden files and folders", select "Show hidden files and folders" and make sure that "Hide protected operating system files" is unchecked, then click on OK. You can put these settings back to what they were after you've finished, if you wish.
You only need these directories if you wish to uninstall a hotfix, aka patch to the operating system, that you have previously installed. If the system is running without problems since you last installed Windows updates, you likely don't need to worry about deleting these directories. This may free a substantial amount of disk space. Make a note of the hotfix numbers that are part of the name of each of the directories, which you will need for the steps below.
When you delete the directories, entries still remain under "Add/Remove Programs", even though you can no longer uninstall the hotfixes. So, for the hotfixes you've deleted, go to Start, Control Panel, and then Add or Remove Programs and click on a hotfix for which you have deleted the corresponding uninstall directory.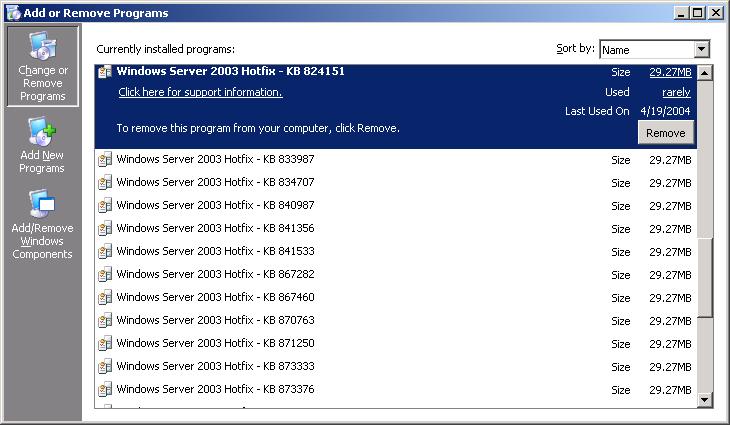 Once the hotfix is highlighted, you can click on the Remove button to remove the entry for it from "Add or Remove Programs". You should then see an "Uninstaller Error" window appear indicating that an error occurred while trying to remove the hotfix and that it may have already been uninstalled. It hasn't been uninstalled, you just removed the files that would have been used if you did want to uninstall it. So click on Yes at the prompt asking you if you would like to remove the hotfix entry form the Add or Remove programs list.

Go through the same process for each of the hotfixes for which you deleted the uninstall directory. You don't do this step prior to deleting the directories, because that would actually uninstall the hotfixes, which you don't want to do, since that would leave your system unprotected from the security vulnerabilities or bugs that the hotfixes correct.

Created: May 2, 2006