Session Manager Firefox Add-on
The Firefox add-on
Session Manager
created by
Michael Kraft
allows you to save a Firefox session at any time. You can save and restore the state of all or only some Firefox windows and tabs. The session data saved includes history, text data, and cookies.
All sessions are stored in the sessions folder inside your profile directory and can be moved around as with any other file. On a Microsoft Windows 8 system, the sessions folder is in %APPDATA%\Mozilla\Firefox\Profiles\profiledir\sessions. You can find the value of %APPDATA% at a command prompt by issuing the command echo %APPDATA%.

C:\>echo %APPDATA%
C:\Users\JDoe\AppData\Roaming
The value of the
profile
beneath the
Profiles
directory will vary. E.g.:
C:\Users\JDoe\AppData\Roaming\Mozilla\Firefox\Profiles\nqp8058i.default\sessions
To get to that folder, simply select "Open Session Folder" in Session Manager's menu (might not work on all OSes), which you can get to in Firefox on Microsoft Windows by using the Alt-T key combination to show the Tools menu, then selecting Session Manager. Session Manager also allows you to reopen the 10 last closed windows and tabs. You do not need to restart Firefox after installing the Session Manager add-on to begin using it.
To save the Firefox session at any time, take the following steps on a Microsoft Windows system (applies to Firefox 31.0 and Session Manager 0.8.1.5):
Use Alt-T key combination to bring up the Tools menu. Alternatively, you can click on the blue floppy disk icon that is placed on the Firefox address bar when you install Session Manager. That icon appears to the left of another icon that is a red cross in a white box which will allow you to reopen recently closed tabs or windows.

Select Session Manager.
Select Session Manager again.
Select Save Session.
A window will open where you can name the session you are about to save.

Provide a name for the session you wish to save in the "Name" field, which could be the date or anything you like. You can uncheck any tabs you don't want saved for the session.

Click on Save Session. Note: when you click on it, it may appear that nothing is happening, but don't click again, give it a few seconds to complete the save.
To load a saved session, go through the same steps to bring up Session Manager, but instead of selecting Save Session select Load Session. You will then see a list of any saved sessions.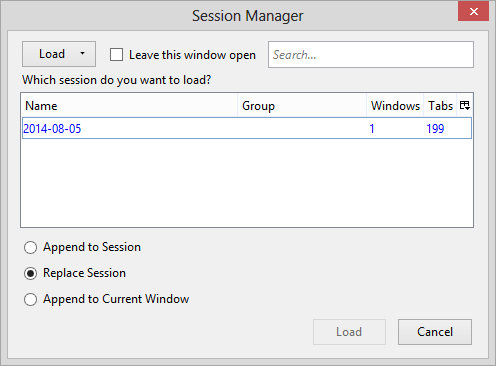 If Firefox crashes or you reboot the system without closing Firefox, you will see a window like the one below when you open Firefox, which will give you the option of restoring Firefox to the state it was in when it crashed or from a prior saved session.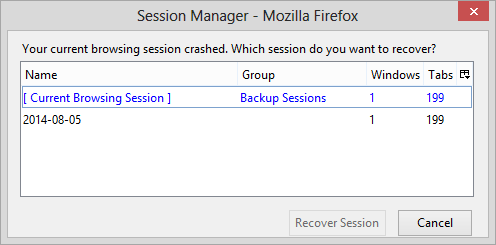 References:
[/network/web/browser/firefox/addons/sessionmgr] permanent link