Problems with Treet.TV in SL on a Windows 7 System
I had to replace a disk drive in a family member's PC. When I put in a new disk drive, I installed Windows 7 and subsequently installed Second Life. Second Life wouldn't run initially, because of an issue with the video driver for the ATI Radeo 9250 AGP video adaper in the system, but I was able to resolve that problem (see Radeon 9250 with Windows 7). I installed the Apple QuickTime Player version 7.6.5 (518.40) so that she could watch videos in SL. However, she wasn't able to watch TV channels she frequently watches in Second Life (SL).

The version of SL on the system was "Second Life 1.23.5 (136262) Oct 14 2009 12:08:26 (Second Life Release)." Going to Help and selecting About Second Life in SL showed the following:
CPU: Intel Pentium 4 (Unknown model) (3198 MHz)
Memory: 3072 MB
OS Version: Professional  (Build 7600)
Graphics Card Vendor: ATI Technologies Inc.
Graphics Card: RADEON 9200 Series DDR x86
Windows Graphics Driver Version: 6.14.0010.6614
OpenGL Version: 1.3.1072 Release

libcurl Version: libcurl/7.18.1 OpenSSL/0.9.8j zlib/1.2.3
J2C Decoder Version: KDU
Audio Driver Version: FMOD version 3.740000
LLMozLib Version: [LLMediaImplLLMozLib] - 2.01.29682 (Mozilla GRE version 1.8.1.21_0000000000)
Packets Lost: 0/1085 (0.0%)
In SL, I clicked on World at the top of the screen. I then selected About Land. I then clicked on the Media tab.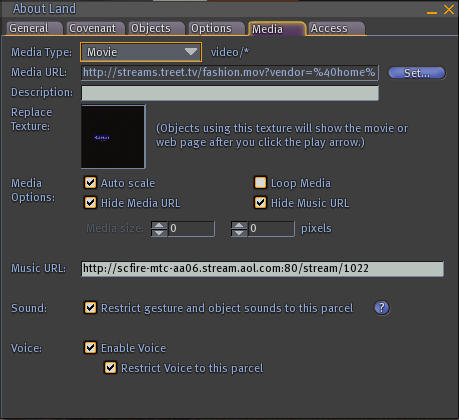 I copied the URL that was present in the "Media URL" field by clicking in the field, then hitting Ctrl-A to highlight the contents of the field and then Ctrl-A to copy the URL into the Windows clipboard. I then pasted it into Internet Explorer to see what would happen if I tried viewing the video there. I didn't see video. A "Windows Security Alert" window opened stating "Windows Firewall has blocked some features of Internet Explorer on all public, private and domain networks.
I clicked on the Allow Access button. I then saw the Quicktime "Q" symbol displayed in the middle of the webpage within Internet Explorer, but with "404: Not Found" displayed below it. The URL was in the form http://streams.treet.tv/fashion.mov....
I then changed the channel in SL by clicking on the TV in the room where I was standing in SL and choosing another channel. I then copied the Media URL again from SL to Internet Explorer. This time a video played in Internet Explorer, though I still didn't see any video in SL.
I then clicked on the TV in SL and picked Main Menu. I selected Live TV, then TV 2. I then saw video, but didn't hear any sound. I clicked on Edit and Preferences at the top of the SL window. I saw the "master" volume control was all the way at the left. When I moved it to the right, I heard sound. I clicked on OK to maintain the setting.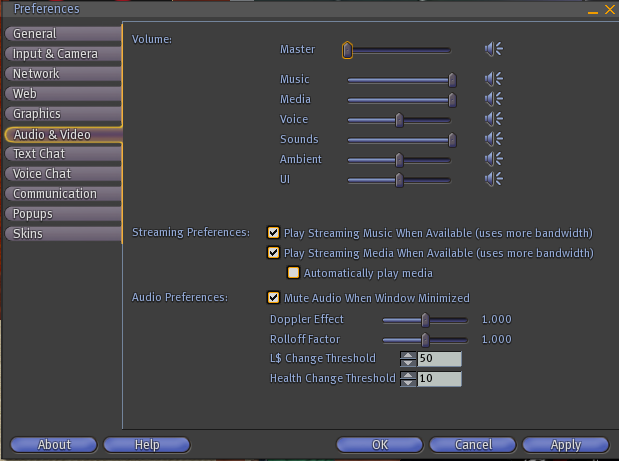 I found that I could see video and hear sound for Live TV and Adult Chl channels, but not Treet.TV channels - the Media URL pointed to a streams.treet.tv website.
The system has the 32-bit version of Windows 7 Professional on it. At Second Life Blogs: Windws 7 and Quicktime, I found others had made postings about experiencing similar problems with watching Treet.TV in SL on systems running Windows 7. Zardoz Firanelli suggested "you may want to try opening quicktime, minimizing it and then seeing if you can run Media inside of SL (ie have quicktime running all ready." Since QuickTime was not running, I opened it. I clicked on Edit, Preferences, and Player Preferences within it and then checked the box next to "automatically play movies when opened." I then clicked on OK, minimized QuickTime rather than closing it and again tried playing a Treet.TV channel in SL. But I still didn't see any video or hear any sound.
Minx Glaz reported on October 28, 2009 that http://streams.treet.tv/live.mov didn't work for her, but rtsp://live.net.treet.tv/slcnlive.sdp did work. I was able to paste the first URL into Internet Explorer and see video there. Though the second URL didn't work in Internet Explorer, it did work when I set the Media URL in SL to it, i.e. rtsp://live.net.treet.tv/slcnlive.sdp.
Posters at that webpage were suggesting the problem was unique to the 64-bit version of Windows 7, but I was seeing it on a 32-bit version. You can go to Control Panel, System and Security, and then System to see whether a version of Windows 7 on a system is a 32-bit or 64-bit version - look at the "system type" value.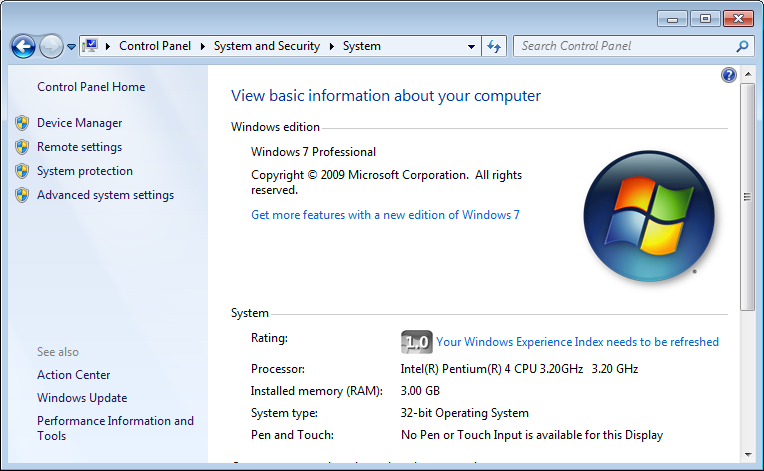 I found that AFTV Cartoons Channel worked in SL. The Media URL for it was http://www.cartoonsfree.tv/unicast_mov/AFTVCartoonsH264250.mov, but when I went back to Treet.TV, it didn't work.
I next tried copying the QTCF.dll file from the \Program Files\QuckTime\QTSystem directory to the SL directory as Drandt Hagen suggested. I exited from SL and reopened it, but the results were the same, so I deleted the file from the SL directory (I had to exit from SL to delete it).
I then tried running SL from the administrator account, by right-clicking on the shortcut for it and selecting Run as administrator as Mur Zimminy suggested on January 4, 2010. I saw a window appear when I started it as administrator asking whether I wanted to play streaming media when available. I chose "yes."
This location can play streaming media.
Streaming media requires a fast Internet connection.
Play streaming media when available?
(You can change this option later under Preferences > Audio & Video.)
Play Media Disable
Treet.TV still didn't work. I had kept the QuickTime player open since I first opened it as Zardoz Firanelli had suggested.
Since Cora Ireman inquired of someone who wasn't experiencing a problem whether he was using the default SL browser or the system's default browser, I decided to see if changing that setting would make a difference. To do so, I took the following steps in SL:
Click on Edit
Select Preferences.
Select the Web entry on the left of the window that opens.
Select "Use external web browser (Firefox, Safari, Internet Explorer" instead of "Use built-in web browser."

Click on the OK button.
After changing the setting, I exited from SL and reopened the application. Though I intend to install Firefox, Internet Explorer is the only browser installed on the system at the moment. I still didn't see the video for Treet.TV.
I closed SL and the QuickTime Player and then copied the QTCF.dll file to the SL directory again. Then I ran the QuickTime Player as the administrator and then did the same for the SL program. The results were still the same. I reset the SL browser to be its default browser, but that made no difference, so I removed the QTCF.dll file from the SL directory again.
I reinstalled Second Life 1.23.5, but Treet.TV channels still would not play. At the end of the reinstallation of the software, I saw a Program Compatiblity Assistant message: "This program might not have installed correctly." I chose the "Reinstall using recommended settings" option, but only after verifying that video still wasn't working for Treet.Tv.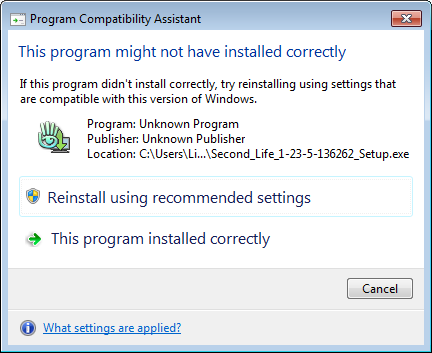 I chose to reinstall using recommended settings, but it didn't change the results when I attempted to view a Treet.Tv channel.
I checked the Downloads | Second Life webpage to be sure I was using the latest version. The version listed for download was still 1.23.5.136262
I thought I would try an alternative SL client, so I downloaded Snowglobe. I installed "Snowglobe 1.2.4 (3007) Nov 18 2009 12:11:13 (Snowglobe Release)". However, as in the SL client, I also could not display Treet.TV video. But, I could also not view Live TV channels, which I could view in the SL client. When I tried to view Treet.TV channels, I just got a black screen on the TV, but for the Live TV channels, I got a blue QuickTime "Q", but the video didn't display. I could view the adult channel and the HD Music channels displayed video along with the music.
I noticed on another system, that was running Windows XP Media Center Edition that the bandwidth option was set to 800 Kbs, so I changed the Snowglobe setting from 500 Kbs to 800 Kbs by the following steps in Snowglobe:
Click on Edit.
Select Preferences.
Select Network.
Change the "Maximum Bandwidth" value.
Click on OK.
That did not resolve the problem.
I also needed to get Second Life working on her laptop, which I had upgraded from Windows Vista to Windows 7 Professional version 6.1 (Build 7600), so I thought I would see what happened on it when I tried viewing Treet.Tv video in SL. It is also running a 32-bit version of Windows 7.
When I started SL on it, I saw the following message:
Your system contains a graphics card that is unknown to us at this time. This is often the case with new hardware we haven't had a chance to test. Second Life will most likely run properly, but you may need to adjust your graphics settings to something more appropriate. (Edit menu > Graphics).
I couldn't play any video initially, since I didn't have QuickTime installed. I closed SL and installed the QuickTime Player. I installed the same version as on the desktop system, i.e. QuickTime Player 7.6.5. I also installed the plug-in for Internet Explorer. The system has Internet Explorer 8 installed with the latest patches for it installed. I experienced the same problem on the laptop. I.e., I could view videos for the Adult Chl, Live TV, and HD Music, but could not see any video for any of the Treet.TV channels.
About Second Life on that system shows the following information:
CPU: Intel Pentium III/Pentium III Xeon (0.25 micron process) with external L2 cache (2094 MHz)
Memory: 3004 MB
OS Version: Professional  (Build 7600)
Graphics Card Vendor: Intel
Graphics Card: Mobile Intel(R) 4 Series Express Chipset Family
Windows Graphics Driver Version: 8.15.0010.1872
OpenGL Version: 2.1.0 - Build 8.15.10.1872
But, if I copy the Media URL value for a Treet.TV channel to Internet Explorer 8 or Firefox 3.5.5 on the system, the video plays.
References:

Created: January 10, 2010