Attempting to kill unkillable processes
When I tried to update
WireShark
on a Windows 10 system to version 2.2.4, I saw the message "Wireshark or one of its associated programs is running. Please close it first."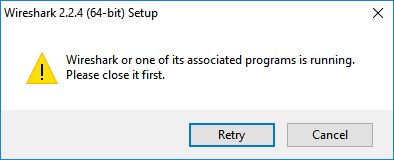 I had to forcibly terminate two Wireshark processes with the Windows Task Manager prior to that message appearing in order to proceed with the upgrade, since I had seen a message that the installation could not proceed with Wireshark running, yet those instances of Wireshark wouldn't close when I tried to close them normally; one of the two was due to my trying a second time to start Wireshark when there was a long delay before it appeared.
I ran the Windows Task Manager with administrator privileges by typing Task Manager in the Cortana "Ask me anything" field and then right-clicking on Task Manager when it was returned in the search results. I saw Dumpcap, which is a process Wireshark and TShark run to perform packet capture, listed in the process list, so clicked on it to select it and then clicked on the End Task button, but that didn't actually terminate the process.
[ More Info ]