Resetting the password for the PRTG Network Monitor on Microsoft Windows
After you've installed the
PRTG
network monitoring software on a Microsoft Windows system, which provides
Simple Network Management Protocol (SNMP)
monitoring capabilities, when you log into the web interface for the first time, the login name and password for the default administrator login are both prtgadmin. You can leave the login name and password fields empty and click on the
Default Login
button to log in using these default credentials.
If you changed the password, but have forgotten the password, you can reset it by running the PRTG Administration Tool. Once you've opened the application, click on the Administrator tab then type a new password in the Password field and retype the password in the Confirm Password field. If you've also forgotten the login name you used, you will see it on that window.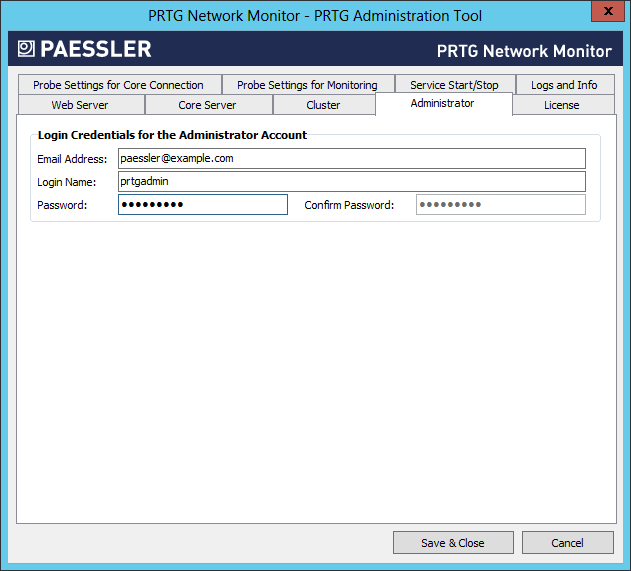 When you click on Save & Close, you will see the following message:
In order to activate the settings the following will be done by the PRTG Administration Tool:
- Stop and start the PRTG core server service.

The PRTG Administration Tool will close automatically afterwards.

OK to proceed?
If you are accessing the web interfce through a browser and provide the login credentials but don't see any message indicating that they are incorrect, but just see the page for entering the userid and password again, then you may need to enable cookies in the browser; I had to enable cookies in the K-Meleon browser to get past the login screen.
If you changed the port for the web interface, you can find it listed under the Web Server tab.
Note: these instructions apply to PRTG Administration Tool version V15.3.17.2995 and might not apply to other versions.