Microsoft AntiSpyware Expired Error
If you see a window with the following error message when you log into a PC, check on whether Microsoft AntiSpyware Beta 1 is installed and has expired.
Error
Unexpected error; quitting

[ OK ]
If the message is due to an expired version of Microsoft AntiSpyware attempting to start, you should see the Microsoft AntiSpyware bullseye icon with "Error" next to it in the taskbar at the bottom of the screen.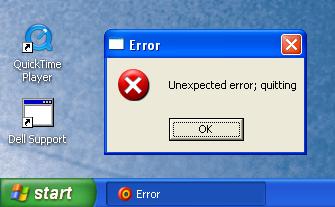 You will see the same error if you try to start Microsoft Antispyware manually, if it has expired.