Changing the AutoRecover frequency for Microsoft Excel 2007
Microsoft Excel 2007 crashed on a laptop running Windows 10 that I was using. When I restarted Excel, I found that, unfortunately, I had lost all of the recent changes I had made to a spreadsheet, even though Excel put "(version 1).xlsb [Autosaved]" in the title of the spreadsheet I had been working on when I restarted Excel—-it crashed when I attempted to paste a webpage URL into a Hyperlink field. The crash and loss of my recent work was aggravating, so I decided to change the frequency with which Excel auomatically saves a file in an AutoRecover version that will allow you to automatically recover a document if if the program hangs or crashes. To change that setting for Excel 2007 on a Windows system, you can click on the Office Button at the top, left-hand corner of the Excel window (it is to the left of the "Home" tab as shown below).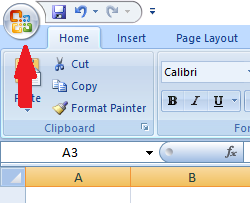 Then click on the Excel Options button and select the Save option. The checkbox for "Save AutoRecover information every" should be checked. You can then change the frequency from 10 minutes to a more frequent number; I chose to have Excel automatically save a document every 5 minutes.