Combined Community Codec Pack
A family member needed to play .mkv video files. The .mkv extension is used for Matroska video files. Matroska is an extensible open source, standard multimedia container. Matroska is usually found as .MKV files (matroska video), .MKA files (matroska audio) and .MKS files (subtitles). The developer home page is located at Matroska Media Container. There is a downloads link there for CCCP (Combined Community Codec Pack), which takes you to the Combined Community Codec Pack website.
The installation file uses the Inno Setup installation system. If you have any concerns about the safety of the software you might install, I've provided links to the malware scan reports for the 2009-09-09 version of the Combined Community Codec Pack below. Virustotal is a "service that analyzes suspicious files and facilitates the quick detection of viruses, worms, trojans, and all kinds of malware detected by antivirus engines." VirSCAN provides a similar service. Both sites scan uploaded files with multiple antivirus programs; none found any malware within the codec pack setup file.
When you install the 2009-09-09 version of the codec pack, you can choose from the following components. All will be installed by default unless you deselect them.
CoreWavPack 1.1.1
FFDShow Tryout r3065 2009-08-30
FLV Splitter r1264
Haali Media Splitter 1.9.42.1 2009-01-11
MPV (MPEG2) Decoder r1264
VSFilter 2.39 r1264
Media Player Classic Homecinema 1.3.1264
If you install all of the above, you will need at least 22.3 MB of free disk space. By default, a "Combined Community Codec Pack" folder will be created beneath the Start Menu with shorcuts for the codec pack.
Under Select Additional Tasks, you also have the following options:
General
  Set Perceived Types
  Register Extensions in Windows Media Player
Haali Media Splitter
  Enable Shell Extensions
    Enable Thumbnails
The "general" ones are selected by default, but not the "Haali Media Splitter" options. I selected those as well. You can also choose to open the settings window for the application during the installation.
The Combined Community Codec Pack provides support for the following FFDShow Video Decoders:
DivX
Flash Video (FLV1 & FLV4)
Generic MPEG4
H.264/AVC
Theora
Xvid
The following FFDShow Audio Decoders are supported:
AAC
AC3
DTS
EAC3
FLAC
LPCM
MP1/2
MP3
True Audio
TrueHD
Vorbis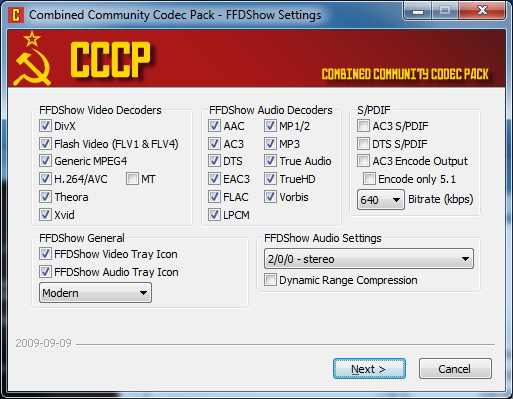 You can also change the file associations for various file types, such as .avi, .mkv, .mp4, and .ogm files.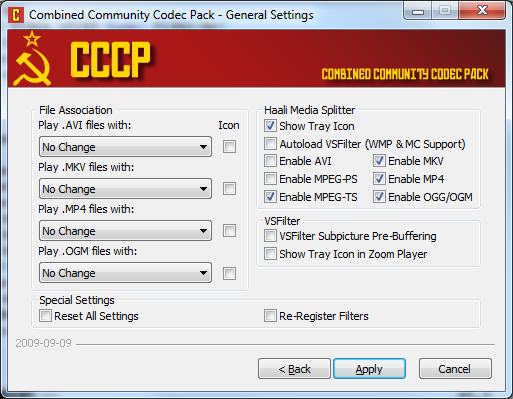 To be able to play those files by just double-clicking on them, you may need to change file associations. For instance, under Windows 7, if you want to play the files with Windows Media Player, you can right-click on a file of one of those types, e.g., an .mkv file, and choose Properties. Then click on the Change button to change the "opens with" application.