Chrome menu bar color changes
The Google Chrome menu bar, which consists of three horizontal bars, one beneath the other, in the upper, right-hand corner of a Chrome window will change color if Chrome is not up-to-date. Normally the 3 lines are black, but they will change to green, orange, or red if the version of the Chrome browser that you are using is no longer current. E.g., in the screen shot below taken on a Mac OS X system running Chrome 35.0, the bars have turned red. The menubar color changes apply to Chrome on other operating sytems as well. Clicking on the menubar shows a list of menu options, but also a "Chrome is Out of Date" message.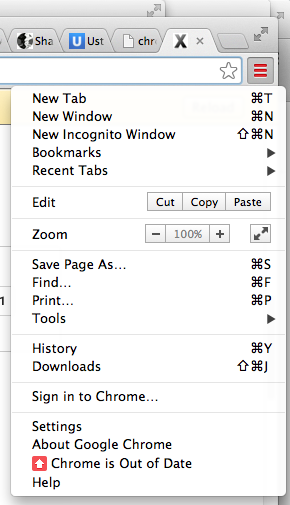 The menu bar color shows how long an update has been available:
| Color | How long an update has been available |
| --- | --- |
| | 2 days |
| | 4 days |
| | 7 or more days |
To configure Chrome to update automatically on a Mac OS X system, you can select "About Google Chrome" from the menu that is accessible from the menu bar then click on the "Set Up Automatic Updates for All Users" button.
References: