SNMP Tester
If you need an SNMP test tool for a Windows system,
Paessler
, a company that produces network monitoring software, offers
SNMP Tester
for free. There is no installation process for the software other than extracting the files in the downloaded zip file to a directory of your choice and running
snmptest.exe
.
After extracting the files to a directory under Program Files using an administrator account, I tried running the program from a normal user account. The program didn't appear to open, though I could see it running when I used the Task Manager to check on running processes, although the CPU utilization for it stayed at 0. So I right-clicked on snmptest.exe and chose "Run as administrator". The program then opened. I found that I could extract the files to a folder in the My Documents directory of the regular user account and run it from there. The issue I first encountered when attempting to run the program from the Program Files directory was that the program wants to update an snmp.ini file in the directory from which it runs and that account didn't have write access to the Program Files subdirectory within which it was located.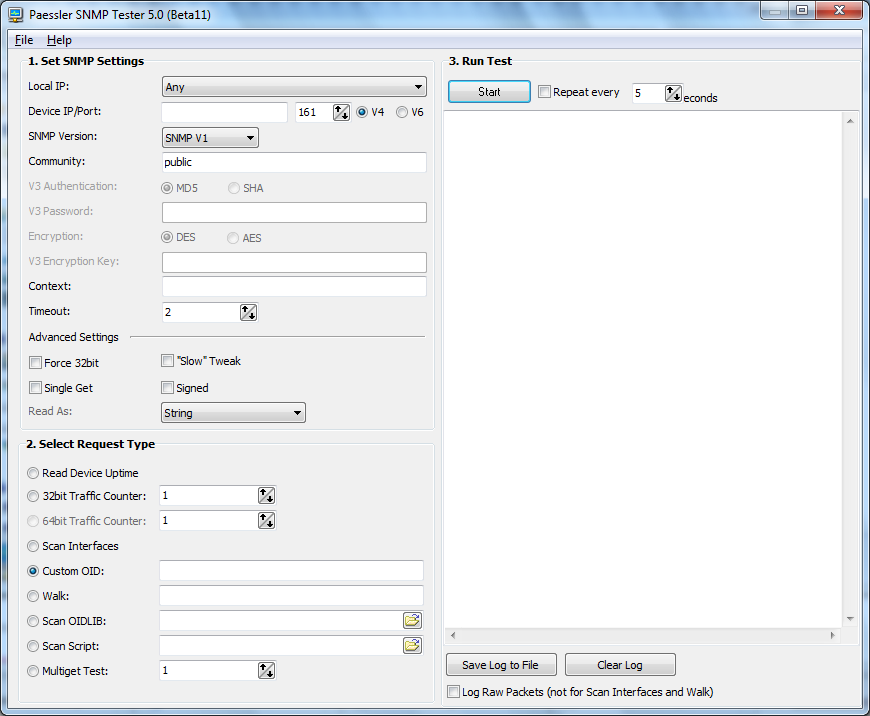 When you run the program, place the IP address of the system you wish to scan in the Device/IP field; if the SNMP port has been changed from the default value of port 161, change that also. Specify the community string in the Community field. If you want to see the uptime of the device to just verify the device is responding to SNMP queries, leave "Read Device Uptime" selected under Select Request Type. Then click on the Start button to initiate the scan.
You can also put an OID, such as 1.3.6.1.2.1 in the Walk field, select the Walk radio button and click on Start to "walk" through a sequence of OIDs or specify a particular OID, e.g.,1.3.6.1.2.1.1.5.0 in the Custom OID field.