Running MVC from an AVG Rescue CD
The
Multi Virus Cleaner
antivirus program can be placed on a rescue CD, such as the
AVG Rescue CD
as an additional anvirus tool.
First, you need to download the MVC zip file. Unzip the contents of the file and then run the setup.exe program to place the software on the system on which you downloaded it. You can then copy the contents of the directory into which you install it onto an AVG Rescue CD using the instructions at Creating an AVG Rescue CD.
Once you've got the software on the rescue CD and have booted the target system, i.e. the one you need to scan for viruses or other malware, you will need to copy the directory in which it is located from the CD onto the drive created in memory on the system, or onto a USB drive, such as a thumb drive, attached to the system in order to run it. If you attempt to run the software directly from the rescue CD, you will receive the error message "Unable to load signatures file." But you can run it if you copy it to the RAM drive creatied from the system's memory, e.g. drive Z. You can then go to that directory using the FreeCommander program on the AVG Rescue CD and start the MVC program by double-clicking on MVC.exe.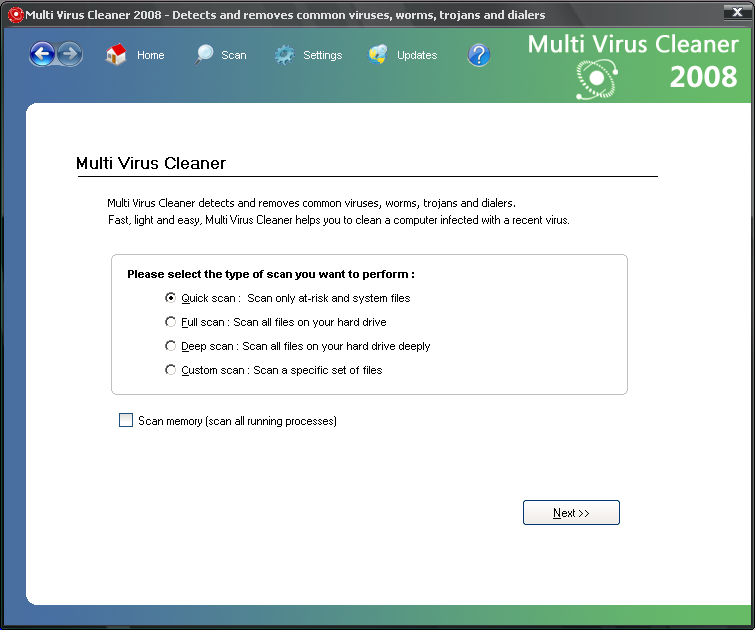 When the program starts you will be prompted to perform one of the following scans:
Quick scan: Scan only at-risk and system files
Full scan: Scan all files on your hard drive
Deep scan: Scal all files on your hard drive deeply
Custom scan: Scan a specific set of files
You can click on Settings to chose what to do when an infected file is detected. The default option is to ask the user what action should be performed.
Ask user for action
Automatically delete the infected file
If you click on Updates you can choose to download the latest version of Multi Virus Cleaner for free. The date on the signatures file is displayed at this window.
| | |
| --- | --- |
| Signatures file: | v8.6.0 - 04-DEC-2008 |
| Virus signatures: | 6373 Show list |
If you are running the software from the rescue CD, click on Custom scan on the startup window, which you can reach by clicking on the Home button. Then click on the Next button and select drive C, i.e. the partition on which Windows is loaded on the hard drive, then click on the Scan button.
MVC will report it has found an infected file ENGINE.DLL in the C:\AVG_Rescue_Temp directory with the virus "EICAR TEST STRING (SAFE)". Click on the Ignore button, since this is just a test file many antivirus programs, such as the AVG Rescue CD antivirus program, use to verify that antivirus software is working.